Caitlin made me the richest most illness inducing (in a good way) cake I've ever had I think. It's a chocolate cake using — I'm guessing — about two dozen Reese's Peanut Butter Cups chopped up and stuck to the icing. Intense to say the least.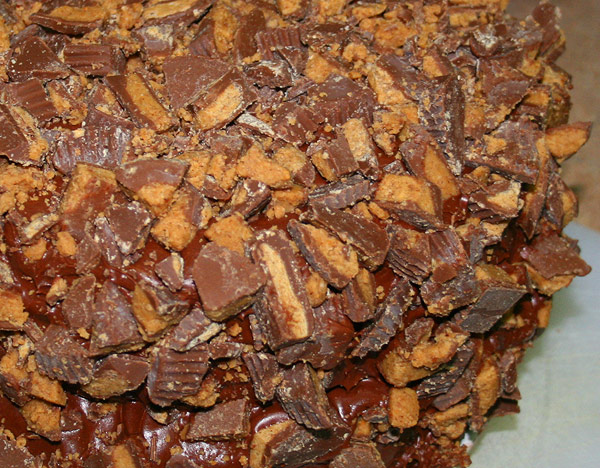 Seriously, damn!
That was yesterday. Today she had to work through supper, so I cooked a meal that Nefarious and I love, but Caitlin despises — OKRA. In this case, okra and shrimp and brown rice (and a few assorted veggies) in a fig sauce. I also cooked blueberry and currant muffins because I found out today that it's my day to provide snacks at Nefarious's school — I guess I'm one of the parents that they know they can pretty much always rely on for last minute tasks (which I don't mind at all).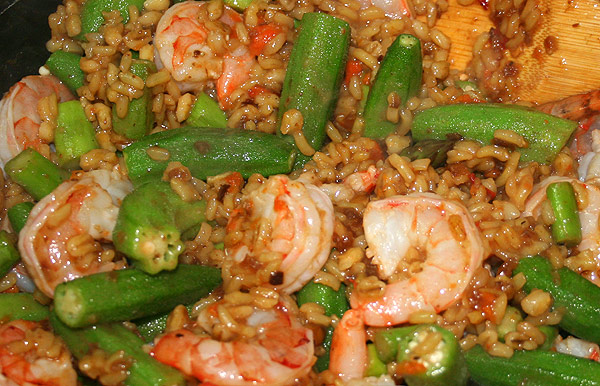 Time to relax now with some mindless TV… I watch far too much television I think, enjoying Terminator, Heroes, House, Survivor, and 90210, and when the seasons start, add Dexter and Big Brother (as well as The Daily Show and The Colbert Report of course)… If there's a good show that's not on that list, seriously, seriously, please don't tell me. I'm better off blissfully ignorant.
That said, the TV that I'm most looking forward to this week is most definitely the Vice Presidential debates on Thursday. Please oh please let it be as hilarious a trainwreck as I think it will be. I'm sort of thinking though that they're going to toss Palin off the ticket at the last moment and swap in Liberman or Romney and somehow pull a believable win out of their hats rigged voting machines.