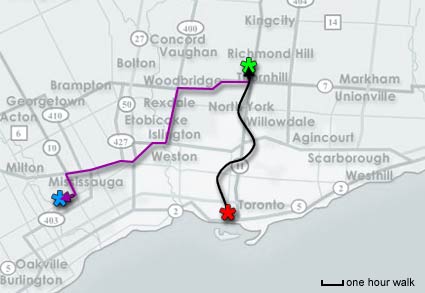 I included a map for those of you who don't know Toronto. The red star is our house, the black line is where the dog walked, the green star is where the dog was found, the purple line is the car trip she took, and the blue star is the dog clinic where she got picked up. As you can see, it's quite the walk!
We have no idea how she got all the way out to Richmond Hill… It would take something like six hours to walk that far. I suppose it's possible someone stole her right outside our house and then lost her while getting gas out in Richmond Hill. She's a very "stealable" dog. That's actually the only reason we got her back!
An old lady found her in Richmond Hill and decided to keep her. She took her in to her vet to get her checked out. Her vet scanned her, and the scan showed us as the owners — plus we'd already notified PetNet that she was missing, so they wouldn't allow a vet to do an ownership update…

---
Image update later today — I started working on it yesterday, so expect a big one. Scroll down one entry to see info on the mini-fundraiser please… It's doing OK — as of right now you've donated $295.94! Thank you! Even if you only donated $1.00, thank you! Every bit helps!