That stupid CBT talk-about-it pain group I got myself involved with in the hospital is a real downer. It's really pretty negative for me, I don't like having to think about pain all the time and I just dread the days I'm supposed to go, and have "skipped class" a couple of times because I just dread it so much. I just don't think it's healthy. Better to get on with what life you have left, at least if you're like me and your pain isn't psychiatric in nature. So I've been programming like nuts to try and keep my mind off unpleasant things. On that note…
There are a few commercial services out there that aim to print your blog for you into book form, but because my blog is so large and some of the formatting is problematic, none of them were able to do what I wanted. So, with the aid of Prince to do the final stage of printing (I can't recommend this tool enough), plus a couple thousand lines of custom XML parsing code by yours truly, I have a tool that does a beautiful job of converting large blogs into book form, with complete formatting. It does the obvious stuff like turn links into footnotes, but it has some sneaky tricks up its sleeve as well like grabbing thumbnails for embedded videos and reformatting a variety of oldschool-HTML tables, which was important for me since a lot of my entries are old and imported from IAM when you had to do that sort of thing from time to time. Oh, and it has fancy comment inclusion ability as well but after a lot of waffling, I decided not to include comments in this printout.
Anyway, I'll post more in a couple weeks when I get back the 2011 yearbook that I just ordered (about $60 for a hardcover 236 page letter-size full-color book seemed pretty reasonable), but until then let me really quickly post some screengrabs of the production PDF file: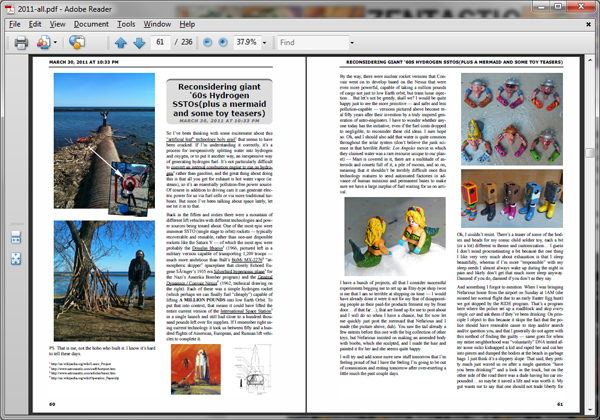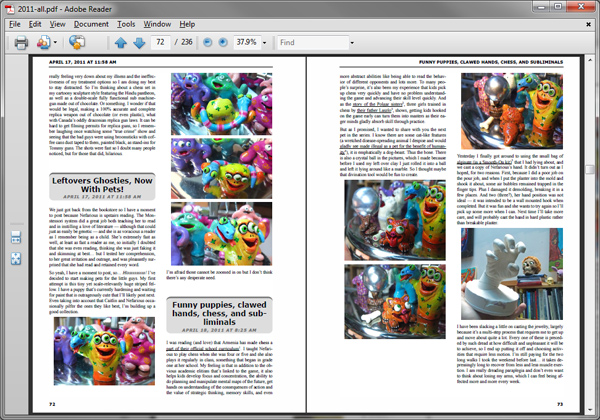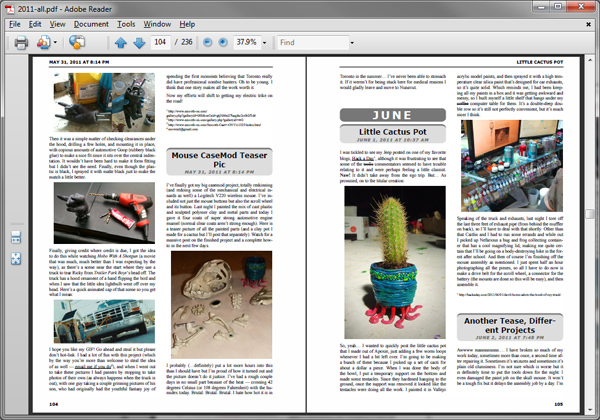 My tool is WordPress specific, as it works with the XML export dumps, and for now, it's pretty specific to my blog. Might be most helpful for me to share the custom CSS files I wrote, since they actually do a significant percentage of the work — much of the parsing and cleaning of entries could be done by hand on anything but the largest blogs (which unfortunately includes Zentastic, with thousands of entries). I'm happy to share it and/or the source code if someone wants it, but while it could be useful to others developing XML parsers, specifically for print conversion, I doubt it would be easy to make it work on any old blog.
[Comments are disabled on this post because there was something about it that was making it an over-the-top spam-magnet]