We went to the public pool today and it was even more empty than yesterday. In fact, we were the only people there, other than the lifeguards. I suppose this is because of the weather in part, but also because the strike kept Toronto pools closed for the majority of the summer people just didn't get into the habit of going. It was very cold at first, but I got used to it pretty fast. The lifeguards are kind of obnoxious about pushing the rules, so I had to stay close by the girls even in shallow water, and they yelled at me for taking photos, even though the only people there were us.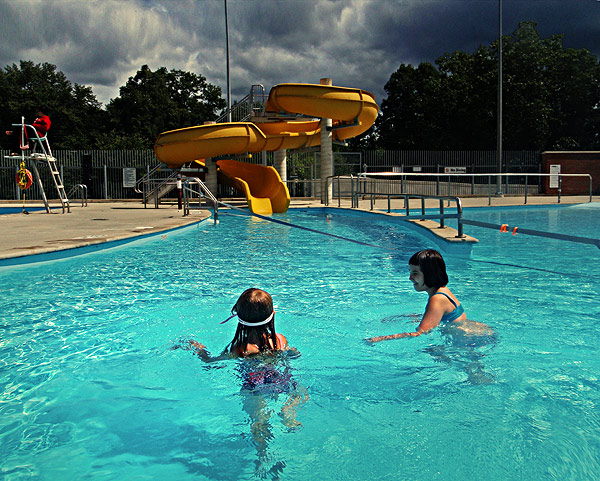 The other unfortunate casualty from the short summer is that they haven't done the required maintenance on the water slide, so we were not able to enjoy that. In the end the visit was cut a little short (maybe forty-five minutes in the pool) because of a perceived wasp attack.
As I expected, when we got back to the truck there were people around it taking photos, something I imagine will become a regular occurance and I look forward to finding it on flickr pages, and once we arrived, asking lots of questions…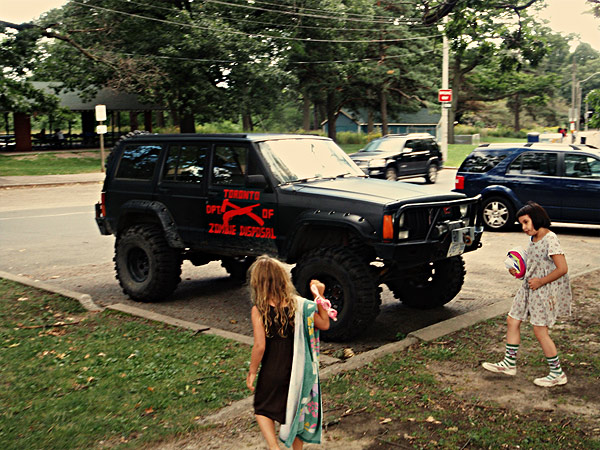 Then off to the playground for ice cream and hot dogs, and while they played I read William Little's "The Psychic Tourist", which has been an enjoyable read although he's far too soft on psychics for my liking. As well as my stack of sailing books, I also picked up "Map Addict" by Mike Marker, which is great, and a new copy of Kahlil Gibran's "The Prophet", which I've read much of before but decided to read again (you can read it for free in many places online, including the previous link here, but I like reading physical books).
There were a bunch of events today at the park… some sort of AIDS-oriented walk-a-thon, and lots of end-of-summer parties, including this one that had kids doing some sort of LARP-like battle with foam swords and giant hammers and other faux weapons. Other than that, when we got home, a surprise visit from friends.