Seeing as I've blogged about it anually (we were there last year, 2009, and a few times in 2008, and also in 2007 and every year since Nefarious and I have been back in Toronto — and probably even before that, when she was just a baby), I'm guessing it's no shock that we were at the CNE today, marching around, mostly chaperoning Nefarious on the fairground rides and games. The day however began with a tree that had a "scar" on the bark that looked an aweful lot like a bird…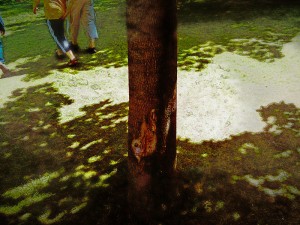 After that, I sat with Nefarious and Caitlin for pictures next to the fire station (but not with Dave, who also joined the three of us), where Nefarious chatted up the fireman, got a sticker (the same sticker that she's eagerly gotten every year I think), and climbed through a fire engine.
We spent lots of time in the petting zoo… I'm certain this is my favorite area by far and I had so much fun just sitting on the ground next to the goat pen and feeding them, first with treats that I bought, and then with treats that I scavenged from the floor — they eat so eagerly (and competitively) that half the food gets dropped outside the pens where they can't reach it. Even if you didn't have food, a couple of the gleefully desperate goats would gladly fantasize that you had food as they licked your hands silly. I could have spent the whole day there, and just loved spending time with the goats, sheep, alpaca, llamas, pigs, and all the other barnyard critters.
Since she's 48″ this year, it's the first season that Nefarious can go on nearly every ride on her own, and she definitely took advantage of that and braved a ton of exciting ones, as well as old favorites like running through the funhouses over and over and over. It's totally nuts that people spend $5 for a single 45 second walk (not that fairs are known for being devoid of rip-offs), but Nefarious had a ride-all-day pass and it was worth every cent (although I saw some very angry parents of short kids who'd spent the $36 for that bracelet, realizing after the fact that their child was too short for most rides). While she enjoyed the rides I played policeman and reminded smokers that their act was not permitted… I was expecting rude refusals, but everyone was begrudgingly polite and put out their cigarettes. A much better action than getting annoyed and taking passive-aggressive photos as usual.
Then when we got home six hours later (we took transit, which is much easier than driving given the heavy Toronto traffic and the potential parking issues — cost and availability), I had a nice surprise in the mail, two shirts from Tee Fury — that's a site that posts a new cheap t-shirt every day, that's available for one day only. A lot of junk gets posted, but I still check daily, and have snagged a half dozen or so this year when they struck my fancy. Here's what I got today:
Tomorrow I'm sure we'll all have sore legs — I think this is Caitlin's third day in a row of marathon walks, in addition to her work at the gym — so I imagine activity will be limited to heading down to the pool for a lengthy swim. Fingers crossed for cold and windy weather, which fools my body into believing the unheated water is much warmer than it actually is. Definitely do some carving as well — it's just been such a huge pleasure rediscovering how much I enjoy fabrication of all types, and creating with my hands as much as my mind, which is where the balance usually leans toward.