MEET TOMMY: An Exploration of Private Body Modification and Play is a book of interviews about subincision, castration, penectomy, penis splitting, and other heavy male genital modifications (with a small number of other heavy mod interviews as well. It's 444 pages long, and contains over 300,000 words in over one hundred separate interviews with individuals at the fringes of body modification. Because of the massive social changes that have happened in body modification in the last twenty years, I felt it was essential that these interviews be published, because the unique environment — an often lonely, self-doubting environment due to body modification's past secrecy — that formed these individuals no longer exists.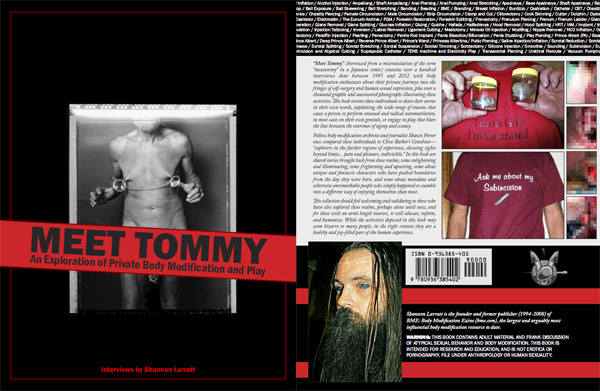 From the back cover blurb:
"Meet Tommy" (borrowed from a mistranslation of the term "meatotomy" in a Japanese comic) contains over a hundred interviews done between 1995 and 2012 with body modification enthusiasts about their private journeys into the fringes of self-surgery and human sexual expression, plus over a thousand graphic and uncensored photographs illustrating these activities. This book invites these individuals to share their stories in their own words, explaining the wide range of reasons that cause a person to perform unusual and radical automutilation, in most cases on their own genitals, or engage in play that blurs the line between the extremes of agony and ecstasy.

Fellow body modification archivist and journalist Shawn Porter once compared these individuals to Clive Barker's Cenobites—"explorers in the further regions of experience, showing sights beyond limits… pain and pleasure, indivisible." In this book are shared stories brought back from these realms, some enlightening and illuminating, some frightening and upsetting, some about unique and fantastic characters who have pushed boundaries from the day they were born, and some about mundane and otherwise unremarkable people who simply happened to stumble into a different way of enjoying themselves than most.

This collection should feel welcoming and validating to those who have also explored these realms, perhaps alone until now, and for those with an arm's length interest, it will educate, inform, and humanize. While the activities depicted in this book may seem bizarre to many people, in the right context they are a healthy and joy-filled part of the human experience.
The book is available in two formats, hardcover and paperback/softcover, which are identical other than the binding. You can order them at the following links:
In addition, I've decided to post a free PDF download, which you can download here:
That download is about 40MB by the way. You're welcome to print it out for personal and non-commercial use — the quality is more than high enough for it to look good. If you enjoy the free PDF, feel free to pay me back with a Paypal donation to snowrail@gmail.com, or pay back the body modification community as a whole by submitting your stories and pictures to BME.com — without BME and its members, this book could never have existed. BME's value is immeasurable to this community, both in the past, now, and, I hope, in the future.
In addition, permission is also granted to repost this PDF file elsewhere to help people access it, as long as the use is non-commercial in nature (ie. web ads alongside are just fine, but charging for it is not).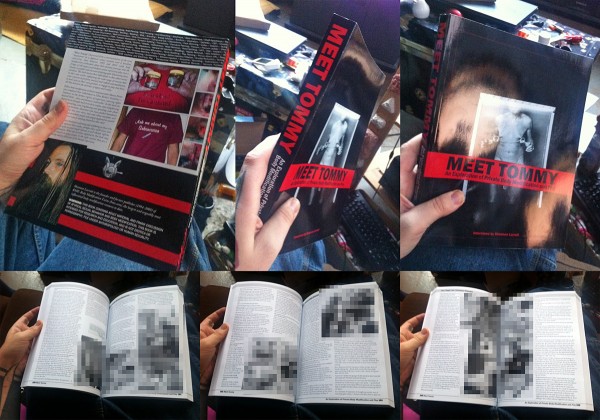 Here is a list of the interviews (from the table of contents): Rob: Stretched PA and Genital Tattoo, Dario: Bodysuit, Genital Cutting and Piercing, Pierre: Full Subincision, Paul Oneball: Silicone Scrotum, Liao: Chinese Modification Enthusiast, Thomas: Split Penis, Wandalaput: French Masochist Worm, George: Scrotal Wristband, Habakuk: Scrotal Suspension, Heino: Headsplit and Piercings, Jon: Genital Cutting and Pumping, Erebli: Secret life as a famous CBT artist, Meko: Subincised, Wrandy: Eunuch, Alex: Glans Branding and Meatotomy, Travis: Shaft Silicone and Adult Circumcision, Sub: Modified Scientist, Dominic: Eunuch with Nipple Removal, Sexplorer: Pierced Couple, Ben: CBT and Piercing, Troy: CBT Pain-Pig, Gary "Splitcox": Glansectomy, PSG: Pierced Shaft Guy, Eric: Fully Subincised Eunuch, Eunuch Bill: Castration and Scrotectomy, Peter: DIY Transscrotal, Henk: "All of the Above", HJ: Sounding and Meatotomy, Mr Thomas: Pins and Needles, Udo: Inspired by O, Splitone: Full Genital Bisection and Electrostim, Duncan: Meth Penectomy, Willy C: Color Saline, Alex: Glans Tattooing, Jerry: Subincision Catalyst, Daniel: Penile Implant and Glans Split, Talula: Eunuch, Mark: Donut Penis, Impgrin: Mineral Oil Injections Salvaged With Love, Ozeballs: CBT and Meatotomy, Chris: Beading and Head Split, Blake: Coming Out Subincized, John: Genital Liberation, Hash: Posessed by Castration, Don: Subincision with Penile Rods, Charlie: Meatotomy for Sounding, Terry: Scrotal Stretching, Spoon: Beading and Genital Cutting, SplitCock: Bifurcated Penis, Shawn: Shaved Eunuch, Alan: Fun With Fire Ants, Marcel: Smoothy, CBTMIT: Proto-Cutter, Ricki: Diethylstilbestrol Eunuch, Four Finger Joe: Voluntary Amputee, Denis: A Subincision by Accident, Shawn: Oscar is Cumming, Jean-Michel: LAK Leg Amputation, Jake: Eunuch, Mark: Silicone Freak, Chris: Ozzy Eunuch, Hugo: Tattoo Slave, Greg: Penectomy Obsessed, Derko: Castrated Octopus in Heat, Stuart: Labial and Transscrotal Obsessions, Hans: Tattooed Penis Amputation, Abe: With Saline, Bigger is Better, Siwefi: Skin on Fire, Walter: Sex Anarchist and Sex Artist, FK: "The Indestructible Man", Fred: Addicted to Splitting, Robert: Chemical Castration and Body Modifications, Ray: Born Eunuch, Neil: Partial Subincision, Steven: Studded Cock on Fire, Riverwind and Shamu: Eunuchs, Peter: Torture Artist, Sidney and Cynthia: Eunuch and Cutter, Peter: El Horizonte, Subincision Champion, James: Open and Out Eunuch, Rew: Circumcision, Subincision, and Headsplit, Bruce: Gelding, Peter: Shaft Apadravyas, Martin: Transformer Cock, John: Leg Amputation and Meatotomy, Kai: Slow Cutting, Slow Castration, Roger: Killer Cutter, Lindsay: Penis Stubbing, Crane: Moving from play piercing to CBT, Conor: Subincision and Nipple Removal, Phil: Mr Lumpy, Jim: Love or Mods, Stephan: Ultra PA to Subincinsion, Larry: Ink Man, James: Half and Half, Lee and Connie, Cao: Kinky via Borneo, Mike: Post-TURP Bisection Journey, GP: Piercing Guinea Pig, Fyrezice: Surprise Penectomy, "PLP": Ass Stretching, Anal Piercing Interview Set, liam: Different is Normal, Scorpio: Genital Enthusiasm, CM HURT: Mistress Of Modification, Gustav: Hiding Sex In Skin, Russ: From Piercer to Cutter to Cut, Elio: DIY Human Experimentation, KT: Complete Genital Bisection, and Todd Bertrang: Oracle, Prophet, and Martyr.
Finally, some of the topics discussed (from its glossary): air inflation, alcohol injection, ampallang, shaft ampallang, anal piercing, anal pumping, anal stretching, apadravya, base apadravya, shaft apadravya, ball drop, ball exposure, ball skewering, ball stretching, banding, beading, BME, branding, breast inflation, burdizzo, castration, catheter, cbt, chastity device, chastity piercing, female circumcision, male circumcision, strip circumcision, clamp and cut, clitorectomy, cock skinning, cutter, dolphin, dydoe, elastrator, electrostim, the Eunuch Archive, fgm, foreskin restoration, foreskin splitting, frenectomy, frenulum piercing, frenum, frenum ladder, glans liberation, glans removal, glans splitting, glucose inflation, gluing, guiche, hafada, halfadravya, hood removal, hood splitting, hrt, iam, implant, infibulation, injection tattooing, inversion, labial removal, ligament cutting, meatotomy, mineral oil injection, modblog, nipple removal, no2 inflation, orchiectomy, paraffin injection, pearling, penectomy, penile rod implant, penis bisection/bifurcation, penis stubbing, play piercing, prince albert (pa), base prince albert, deep prince albert, reverse prince albert, prince's wand, princess albertina, pubic piercing, saline injection/inflation, scrotal reduction, scrotal release, scrotal splitting, scrotal stretching, scrotal suspension, scrotal trimming, scrotectomy, silicone injection, smoothie, sounding, subincision, superincision and atypical cutting, suprapubic catheter, tens machine and electricity play, transscrotal piercing, urethral reroute, and vacuum pumping.