Because of my central apnea I have somewhat of an aversion to sleep these days, and I find myself trying to do as little as possible on account of the reality that one of these days I may not wake up. I don't particularly relish the idea of dying in my sleep, I'd rather keep going as long as I can and when I'm sick of it all jumping in a woodchipper and spraying my guys onto a giant canvas in a charade of modern art or something. So last night when I awoke from a brief nap at maybe three or four in the morning I went for a walk — especially with the farcical heat, I very much love the city late at night, long after all but the least law abiding bars have closed. I walked past the rather odd looking Taras H. Shevchenko Museum of Ukranian Canadian art and noticed this strange little statue in the window.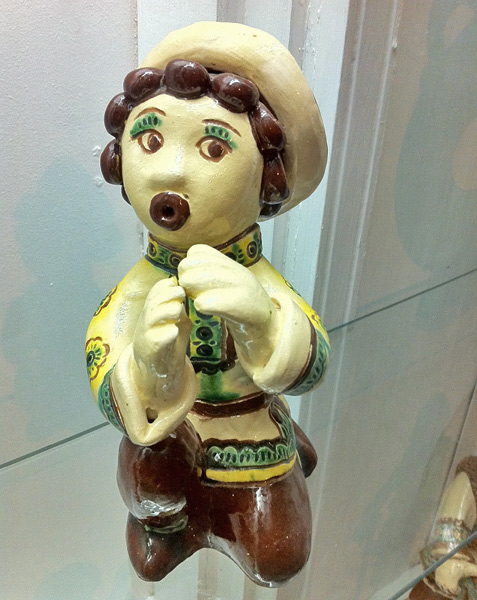 I do not particularly want to know if he is scared for his life or preparing to be… shall we say… amorous? Or worse, both?
Speaking of apnea, I have come to hate breathing. I never knew what a horrible feeling it was until I starting losing the ability to detect carbon dioxide building up in my blood (or whatever the mechanism that causes my apnea is). Every moment narrowly escaping suffocation, feeling death creeping closer and gasping to escape it. But when I forget, when I don't know to breathe, what a sense of tranquility there is not having that need. Knowing that you don't have to fight for survival over and over and over again without reprise is like some Promethean torment. I dread gaining similar awareness of my heartbeat, that marathon that never ends.