I'm gonna slip this entry in before the end of 2010 so that I can make a resolution for 2011. When I was in the hospital, I had a lot of time to think. More than enough time, and with so little to distract me it was enough to get knocked just a little off my grasp of outside world reality, I spent quite a bit of it assessing my place in the world and what I want to say to the world. Anyway, while I'm not at all unhappy with the pop art stuff that I've spent the last couple years painting, I also became quite disillusioned that it's trite. Devoid of any value or meaning beyond the aesthetic and perhaps a cheap joke or gag.
Let me drag out the very last painting in this increasingly shallow series. I'll touch it up a little still but here you go. I had to patch it together from three photos because my 3D camera is pretty lame quality other than it's ability to shatter zero-depth. Sorry that you're going to have to wear out the scroll wheel on your mouse, but the canvas was a weird (read: deeply discounted) shape.

I have a couple of big canvases and pieces of wood sitting here waiting to be worked on. I did the rough sketches while I was in the hospital so I'm eager to get started when I can find the time. I'm going to rewind myself and pretend this whole pop art "phase" never happened, so you're going to see some very different things from me painting-wise this upcoming year.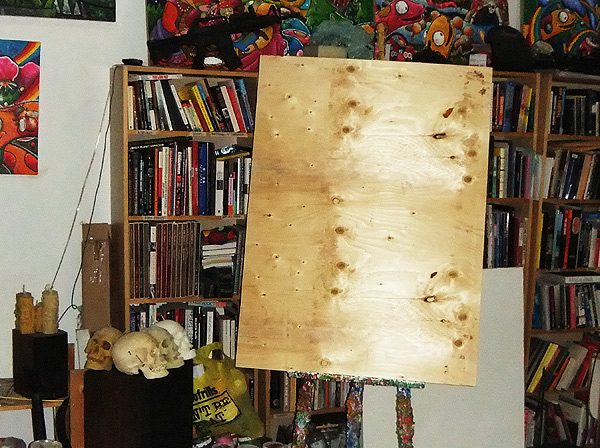 You may notice a few more skulls sitting on the speaker there. In the picture below from left to right, that's natural beeswax, bleached beeswax, and white soy wax. As I said, I'm going to set up an Etsy-or-equivalent store soon and will be expanding this project as I take molds off more skulls. I'll probably do some skull soaps as well with the smaller animal and infant skulls.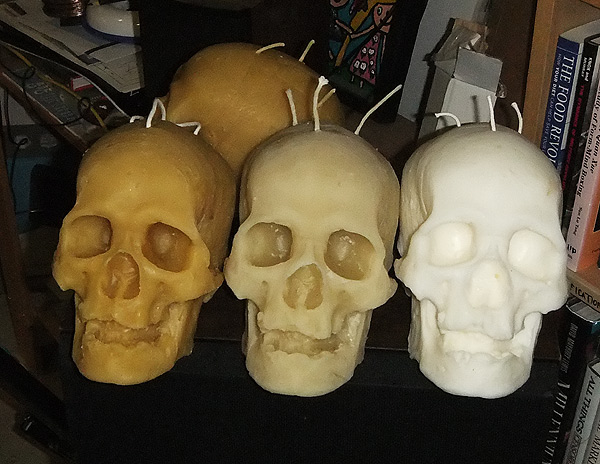 Finally, with her permission, I wanted to share the paintings that Nefarious and I did for Caitlin for Christmas. I made the frames by carving them out of a single piece of pine which I then stained and repeatedly varnished. While the varnish was wet, I lit it on fire (easy since it was technically an aerosol clear coat) and then let that burn out, and repeated that process a number of times before giving it a few thick coats of unburned glazing to soak into and smooth the charred zones. The images themselves are based on happy times that we've had together as a family (I think they're both from our Costa Rica trip), and were first sketched by me, and then coloured with markers by Nefarious, and then touched up with paints by me. I'm not the best portraiture artist but I hope they bring her joy to look at.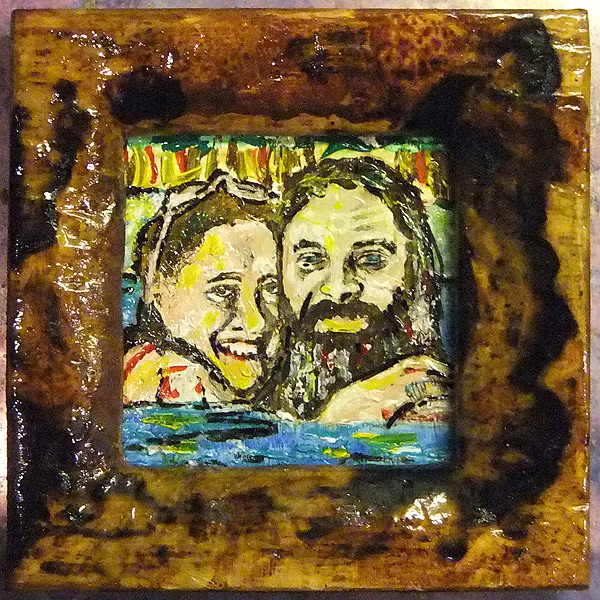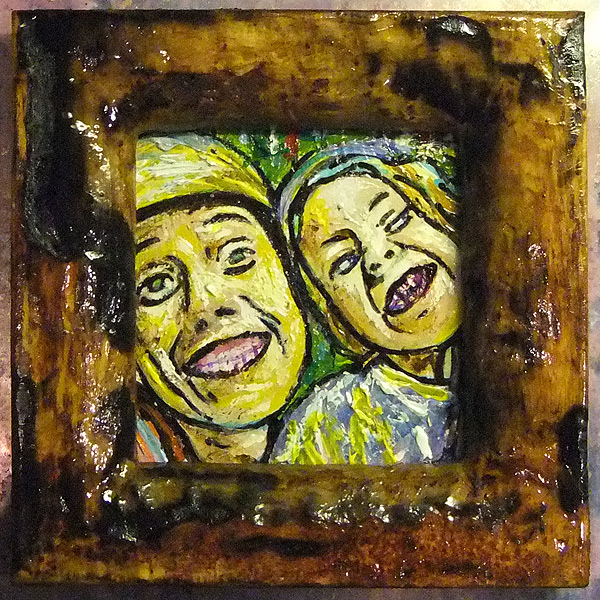 Anyway, I am looking forward to 2011 being a much easier year than 2010, and I hope that being in less pain will allow me to tackle all the zillion projects I dream of undertaking and completing. I wish the best to everyone reading this, and I hope that you as well will fill every moment with what brings you joy and richness. I think Ghandi said something to the effect of "live as if you were to die tomorrow, and learn as if you were to live forever." I'm going to try and keep on doing that.