So Roo calls me up a bit after noon and asks me if I'd like to come swimming with him and Allana. Of course!!! It snowed earlier today, but had stopped unfortunately by the time we went out — but we did have a lovely icicle-covered bench (which Roo braved for these pictures by Phil). I just wanted to say publicly a big thank you to Roo and Allana and everyone who's been coming out swimming — it's been a great experience so far and and made me really happy to be a part of.
Who'd have thought that jumping into an icy lake on a regular basis would be so fulfilling?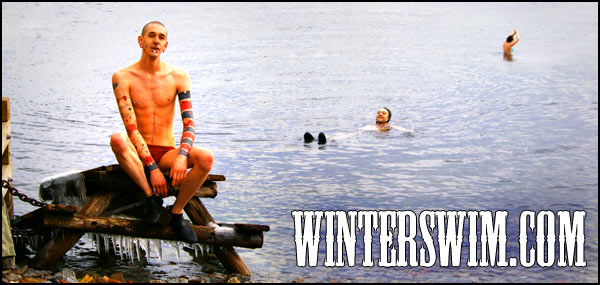 I've heard now of at least three other groups of people who are regularly swimming in Toronto… Now to try and get in touch with them! Oh, and I think we're going to go for a dip tomorrow night just after dark (so everyone can still get however tipsy the host allows in their studio), so if anyone wants to come, get in touch with one of us or email
winterswim@gmail.com
.