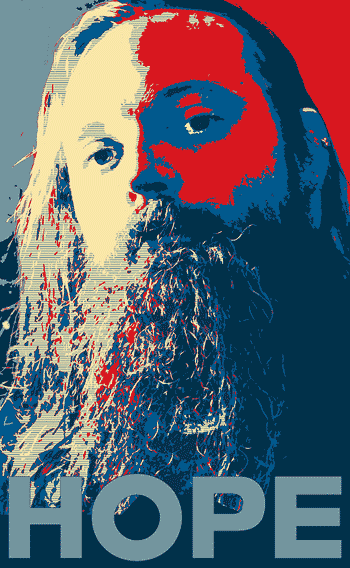 This morning when I woke Nefarious up for school she said to me, "Sleep is amazing, isn't it? One moment you're lying in bed awake, and then the next thing you know, it's morning!"
I think that this experience — the experience of the night disappearing, where you blink and it's morning, has to do with not having dreams that night. It happens to me once every few years, and was more common when I was a child, and I remember it making a strong impression on me as well. I recall one night, looking at my clock, and every time I would blink, an hour or so would pass. A remarkable experience. Anyway, for me on the other hand, it was not a dreamless night
I dreamt last night that I was Barack Obama, President of the United States. To be clear, I wasn't just President, I was literally Barack Obama. However, I had the same painful condition that I have now, and reporters were stalking me, trying to dig up dirt on me. Instead of worrying that they were going to show I was born in Kenya, I was all stressed out that they were going to find my Oxycodone prescription and label me as a drug abuser a la Rush Limbaugh. I was super-paranoid about throwing out my garbage, and was freaked out at the possibility that investigative reporters would go through the trash bins outside the White House and find the prescriptions… But I was hopeful that when I switched from my current opiate-stingy doctor to the Presidential doctor that he would give me a larger prescription… you know, on account of being President, I hoped that doctors would finally believe me about the pain level — my authority had been confirmed earlier when I was stuffing mountains of prescriptions and drug store receipts into grocery bags and sneaking behind the building to find a place to toss them, when the Secret Service body guards assured me that as President I did not have to do chores.
I continued being hassled by reporters, but it got worse later in the dream I had some problems with farting… I mean… sharting… and somehow pooped in my pants! I ran back into the White House hoping no one would notice, dashed to the washroom, and I just kept getting covered in more and more shit and then I realized that I had left the front door open and the reporters that were previously searching the trash had now come into the building and were about to find me, the President, in this revolting state, so the dream ended with me desperately but ineffectively trying to clean myself. Hahaha. Don't analyze that dream please, it will not end with good conclusions.
And pardon the illustration, I have other things to spend my time on today. I'm working on the eBook (Kindle, Nook, etc.) conversion of the classic interviews book, and doing another level of clean-up on it as well as adding about a dozen interviews that have never been published in text (ie. video interviews and so on). I figure it will take a solid couple weeks to get that done.