Thanks a lot Dreamhost for a day of downtime. Greaaaaaat service. I can't imagine how many customers they lost today. If anyone wants to suggest a cheap and easy and painfree host for my WordPress blogs, I'm listening. Anyway, I recently got the following email which introduced me to yet another grotesque corner of the net:
Subject: curious if you've heard about krokodil

and if you havent please dont look it up while eating, not sure why but when i heard about this i wondered if you had also
I actually hadn't heard of it until this email so curiosity made me bite. There's an article in The Independent called Krokodil: The drug that eats junkies and of course the Desomorphine Wikipedia entry has an introduction, but basically Krokodil is an inexpensive street drug that approximates the chemical structure of heroin by processing over-the-counter Codeine pills with iodine and red phosphorus. Unfortunately no effort is made to purify the drug, so you're not only getting desomorphine (which isn't inherently dangerous) but also highly corrosive toxins. These toxins eat away at the drug user's flesh until it's dead and gangrenous and literally falling off their body. It's more horrible than you can possibly imagine, and users have an average lifespan of just a couple years after starting.
The pictures of people doing krokodil make those "Faces of Meth" websites look like a friendly beauty product. They are truly horrific. There is a big over-the-top disgusting photo gallery on Buzzfeed, but there was one awful photo from that page that struck me. Click the image to see it uncensored, or follow that previous link for lots more grossness.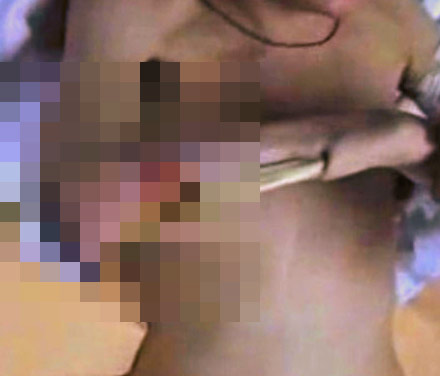 There's one thing though that really struck me in that photo. The tissue around the exposed bone at the hand end, and around most of its length, actually appears to be healed, as impossible as my gut tells me that is. Not that it looks by any means healthy, and the elbow end of the bone looks positively rotted, but it really goes to show how single-minded I am when my first thought was running through all the body modification possibilities — the idea that it is possible to strip and expose a bone, have it come up and out of the flesh, and actually survive and heal like that is wild. Could you do this with collar bones for example? I found some medical and veterinary and dental references with a quick search but I think it's complicated because I'm not sure what medical terms to use that will save me from a zillion false positives.
It reminds me of an old story that I remember from about 1995 when (I think) someone I worked with at Stainless Studios (I can't remember who) told me about someone that came in or someone they knew of — and I can't tell you this isn't an urban legend, who had been in some sort of an accident that left him with exposed bone on his scalp. I suppose there are animals that you could argue have exposed bone, so perhaps it's possible, and these krokodil photos make me think even more that it's possible. Anyway, the punch line of the story was that this individual had an image placed on the bone through some process akin to scrimshaw. Might be a good thing for someone to include in a steampunk graphic novel or something.
PS. And as a side note, the fact that people are willing to destroy themselves with Krokodil really shows you how much addicts are victimized by their condition… how desperate opiate addiction can make a person both to get back to that place where they felt good, and to get away from soul-crushing withdrawal. It really sucks that the system is far too often set up around a "punishment" mentality rather than a "treatment" mentality.