Edit Two: A lot of people have suggested Tumblr. Even if Tumblr is more "friendly", I do not want to be under the thumb of a megacorporation that does not fundamentally care about its users as people. And I have no reason to believe that to be the case of ANY of the big sites. To be honest, the only sites I trust beyond ones I host myself are BME and BodyMod.org. For now I am posting to ModBlog.
Well, I'm banned from Facebook again. This time it's for posting the following image (which ironically I didn't even create — it's a promotional image posted to the APTI Italian SusCon 2012 group — unofficially I am being told now). It was posted along with some commentary about the health and safety issues in suspension, and is obviously in no way a violation of "the rules". I can only assume that since I've been speaking out against rebloggers, stolen content, and so on, that some people have a vendetta against me and are abusing the fact that Facebook's automated "ban" system only requires you to be reported and the bots lock you down. It's quite insane, and I am very ready to leave Facebook to blog elsewhere. As convenient as it is, it's not worth facing this pain in the ass on a constant basis.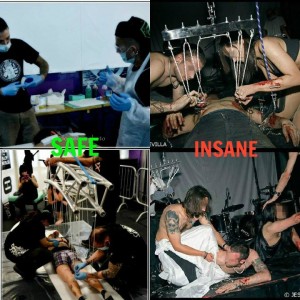 Edit: I want to comment too that this picture is not quite what it seems so please don't judge the people in it harshly (and I don't believe they had anything to do with my ban). I will explain that when I can post again on FB or elsewhere.
I am very seriously considering going back to post on ModBlog instead, as difficult as that would be on a personal level. I've reached out to Andrew Noyes again, who managed to un-ban me last time this happened "in error", but honestly, even with his help, I'm not sure I want this stress. Better off using Facebook to maintain contacts, and just blog somewhere else I'm beginning to think.