My big thing in life is consent. I've been involved in a number of projects that push human behavior even farther than BME does (like EroticDeath.com, a contact site for "murders seeking victims" and vice-versa, currently offline), but for all of them the thing that unifies them is consent. I feel very strongly that if someone can give clear and informed consent for an act that doesn't harm anyone else — even if it harms them — they should be permitted to do so… and if consent can not be given for an action, it needs to be very carefully considered. That's part of the reason I get so angry when people try to censor BME (and a part of why I'm vegan, which may give me neurological blessings).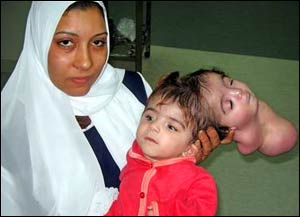 Speaking of not giving consent in the most extreme of cases — death — is this story via
Boing Boing
on a parasitic twin murder (you may not agree with my choice of word) that's a just little disturbing. That's not just a
"birth defect"
as they call it in the
MSNBC article
— the second head smiled, responded, blinked, and as I understand it appeared to be
sentient
. This raises an interesting question —
if it will improve your life, can you murder your [handicapped] siblings without their consent?
Obviously the question is a lot more complicated than just that, but that is a part of it. Well, if that's already starting to give you nightmares, try and focus on the picture below. The goal of the game is, as it often is on my page, to try and figure out exactly what you're looking at. The answer will be in one of the next BME/HARD updates.

Other than that, the guys that did the expose on Jeff Gannon want to talk to me. Luckily I blabber about my past so openly that I don't think there's anything I have to worry about.