Ever since I first saw it, I've been completely enamored with the drawing below of a very dejected looking family about to enter a DIY shelter that can't possibly be very useful, which comes from "Protect and Survive," a 1976 leaflet from the British government on surviving a nuclear strike. The guide advises,
All at home must go to the fall-out room and stay inside the inner refuge, keeping the radio tuned for Government advice and instructions.

Stay in your refuge

The dangers will be so intense that you may all need to stay inside your inner refuge in the fall-out room for at least forty-eight hours. If you need to go to the lavatory, or to replenish food or water supplies, do not stay outside your refuge for a second longer than is necessary. After forty-eight hours the danger from fall-out will lessen -but you could still be risking your life by exposure to it. The longer you spend in your refuge the better. Listen to your radio.

DO NOT GO OUTSIDE until the radio tells you it is safe to do so.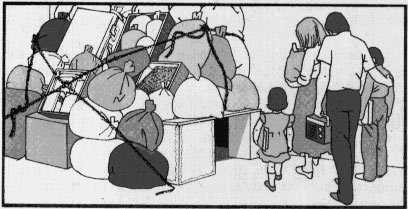 Unfortunately in the time between building this shelter and huddling inside it for a few days in the glow of the bombs on the horizon, pigs have taken over the shelter (in my version anyway)… I first painted this a few years ago but wasn't very happy with it so I'm doing a new version. I prepped the canvas in a primer mix of gesso, crushed tortilla chips, oats, and stale crackers.