I'm in Tweed again after a day and a half of shooting, tattooing, and interviews with Ryoichi, Jerome, Badur, Phil, Blair, Tom Brazda, and Shane Faulkner (and sdfgdfgd who I forgot to mention — sorry!). Here's a still from some of the SAVED filming. This is early in the night… It's really strange to see it fully inflated:
Other than that I've gotten a little more feedback on the edge article, but not much. I assume that most of the people who
"don't get it"
have finished emailing me. I actually find it strange that people walk away with the perception that the article is saying violence is the
norm
(it just says that it exists and is a serious problem, which is hard to deny) — it really makes a sad statement on people's reading comprehension.
Given that I called the violent stuff a "stereotype" and said it was the minority, and that the people who I talked to all basically said it was a few guys ruining the party, not everyone, and then it concludes with saying that edge is a good thing, it's weird. I can only assume that the tiny minority complaining represent or are sympathetic that violent subsector. Don't get me wrong — as a vegan I understand what draws someone to eco-terror and so on, I just don't believe that violence is a good idea.
Anyway, this is what the signs on the highways to Toronto have looked like for the past few days: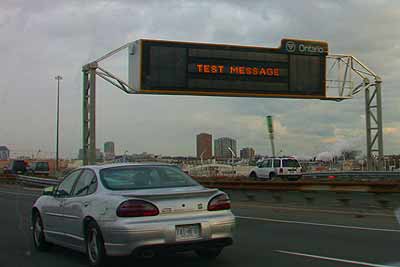 I probably won't be online much more tonight so I'll reply to pending messages tomorrow morning — we didn't wrap up the shoot yesterday until 3AM, and then I got tattooed this morning.