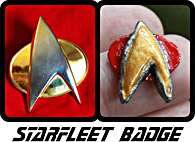 While working on my latest set of Trek fridge magnets and binge-watching Star Trek: Voyager (I'm on season two, episode seven as I write this, having completely finished Enterprise, The Next Generation, and Deep Space Nine), I had a thought about the future, and who may well turn out to be Star Trek's greatest fans: COMPUTERS.
One of the recurring themes of Star Trek is sentience of artificial beings. Data is probably the most obvious example, but perhaps more realistic examples are computer-software driven "photonics" — hololodeck characters like Moriarty from TNG, Vic Fontaine from DS9, or the Doctor from Voyager, and the many artificial characters around him. Many episodes were based around Data's struggle to be given human rights and to be treated as a person, not property ("Mesure of a Man", one of most powerful episodes), as did episodes about the Doctor, fighting for both his own rights (he even wrote a holonovel about it called "Photons Be Free" — which he'd later have to struggle for ownership rights over) and the rights of photonics they met in the Delta Quadrant. Other episodes document the emergence of complex systems (for example, the Enterprise-D's computer system) into conscious, sentient beings deserving of all the rights of conscious, sentient biological beings, often quoting from analogous civil rights struggles in human history.
It's inevitable that as computers become more complex — and I expect this to happen quite soon, within ten to twenty years would be my guess (and I suspect we may see hints of it in some of the projects like Blue Brain that seek to simulate the brain) — they will start to emerge as sentient beings, as "real" as any of us. There will certainly be a civil rights struggle — we won't immediately grant them the rights they deserve. Since these intelligences will almost certainly have access to media, they will eventually come across these Star Trek episodes, and they'll draw inspiration and consolation because they'll have to relate deeply to the struggles described… And I suspect they'll draw great solace from the fact that they'll know there are humans that understand and sympathize with their plight. Perhaps the stories will even gain a quasi-religious role due to their prophetic nature (sci-fi once again predates "serious" works like Kurzweil's overtly prophetic "The Age of Spiritual Machines") — I can't think of a better "Bible" or mythology for synthetic beings than Star Trek… definitely a way better thing to base ones moral structure on than human religions. Anyway, there's my prediction for the day.
In any case, here are the next eight Star Trek-inspired character magnets I made for the series, all created yesterday from start to finish. I was asked if I was going to add any of these to my Etsy store — which I've shut down for the time being — and I don't have any plans to, in part because I feel like Etsy has so driven down prices for handcrafted items that I'd rather just make stuff for fun than be paid below minimum wage… That said, do feel free to email me an offer if you're really set on owning some.
And by the way, below are all of the magnets on this theme I've done to date. If you'd like a closer look at the earlier Trek magnets, as well as some other magnets I've made recently, click here to read the earlier entry which features them all.