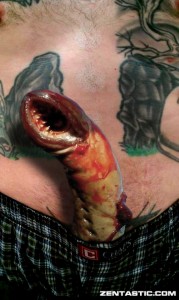 Well, getting banned from various sites seems to be the story of my life, doesn't it? I managed to get myself banned from Facebook again, this time for a week. It's because I posted the image on the right, along with the following punchlines (if memory serves):
"Check out Samppa's amazing new subincision procedure!"
"I've heard of vagina dentata but had no idea there was a male version!"
"Is that a lamprey in your pants or are you just happy to see me"
I made the mistake of posting it publicly… I flipped the switch to "friends only" but I think it was too late and as is no surprise, it had already been reported. I also included a link to the real story about the lamprey photo.
I'm not going to complain about Facebook's "standards" here — although I easily could, since Facebook is flooded with softcore porn blogs. I get that the world is a lot more friendly to objectified photos of women as legally close to naked as possible spreading their ass cheeks than to anything edgy. I understand that a picture of a fish badly photoshopped into someone's pants can have society come crashing down better than a hijaacked 767, and there's a need for corporate masters to beat it down ASAP. The part of the process that really bothers me is that the moderation process is completely non-transparent. It happens on the whims of a single anonymous moderator, and more importantly, there is no appeal process or anyone that can be contacted. The entire Facebook population lives with a totally unaccountable blade over their necks.
Any bodmod posts I have to make will continue to go to ModBlog of course…