It's rare that the concept of acting like a giant asshole to attract attention, and then begging for money after saying "just kidding", works out.
The photo of the bus stop ad on the left was taken in Utah, but was run in various forms across America. It initially contained no other information — just that offensive statement. Later on they added in small text "if they have lung cancer". They're trying to highlight the idea that many people believe that people who have lung cancer due to smoking cigarettes "deserve it". Which is arguably true I suppose, although a very callous statement when you consider the nature of addiction.
Other versions of the ad ran with "cat lovers" and "hipsters" and so on, so they're not drawing a parallel with hepatitis or something like that. They're just trying to be as offensive as possible to draw attention to their cause. Unfortunately it's going to draw the wrong sort of attention to their cause — simply convincing me that they're callous emotionally-unemphatic jerks, and if this thinking pervades their charity, it's not one that I'd choose to donate too.
And sorry, but I'd much rather donate money to groups fighting to stop smoking, to make sure that people don't smoke around children and so on, than to pay to help smokers — which is how this ad frames the lung cancer debate. That raises an important point — is "helping those poor innocent smokers" really an effective way to raise money for cancer research? Accuse people of being jerks, and you're just as likely to have them keep on being jerks rather than handing you a wad of cash. This whole thing seems an incredibly counter-productive way of helping, and I definitely don't appreciate them kickstarting the whole thing with hostility toward tattooed people.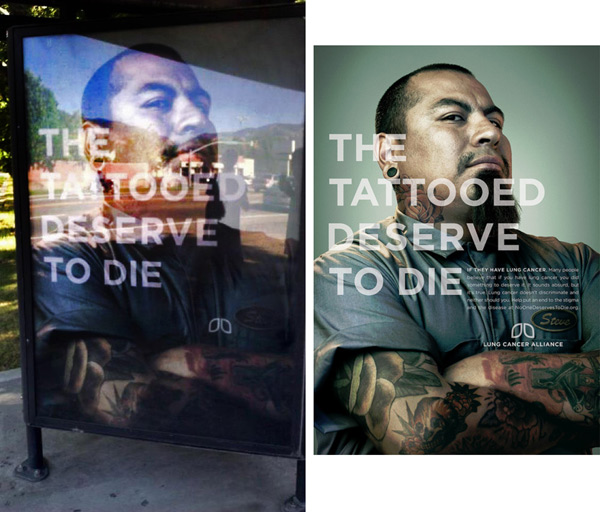 PS. There are pictures of all the ads here: https://theinspirationroom.com/daily/2012/no-one-deserves-to-die/