As an artist, it's important for me to not just pay my bills, but also to make sure that people who appreciate what I'm creating are able to own it for themselves. The payment part is a necessity, but it's seeing someone enjoy your art that is the gratifying part. I also come from a shareware software background (remember PC-SIG?), where the concept was that if you create something worthwhile, people will gladly pay you for it after appreciating its value to them. Now, unlike software, I can't give rings away for free and then hope to be paid, because there is a raw materials and time cost per item, but I am going to try what I think is the next best thing — allowing people to discount the price of any item by as much as 50%, with them choosing the amount.
I have created a bunch of new coupon codes for my Etsy shop. You enter them at checkout if you want to use one (obviously I am very happy if you are able to afford to pay the regular full price). They are:
5PERCENTOFF — Save 5% 10PERCENTOFF — Save 10%
15PERCENTOFF — Save 15% 20PERCENTOFF — Save 20%
25PERCENTOFF — Save 25% 30PERCENTOFF — Save 30%
35PERCENTOFF — Save 35% 40PERCENTOFF — Save 40%
45PERCENTOFF — Save 45% 50PERCENTOFF — Save 50%
If every single person chooses the maximum coupon I will probably reconsider the wisdom of this idea, but I will be truly surprised if that happens. I believe people will continue to support the shop fairly, but that it will mean that more people will be able to have access (so don't feel bad if you do choose 50% off — I wouldn't have included it if I didn't want people to use it). I will report back in the future on how this idea works. Thanks again to everyone who has supported the shop so far.
Now, I also wanted to share what I made today, and I have to give credit to Caitlin who gave me the idea after seeing the last heterochromia ring I made — she told me I should make a David Bowie Ziggy Stardust inspired ring. So I present to you Ziggy Skulldust… or… Deaddy Stardust… or something…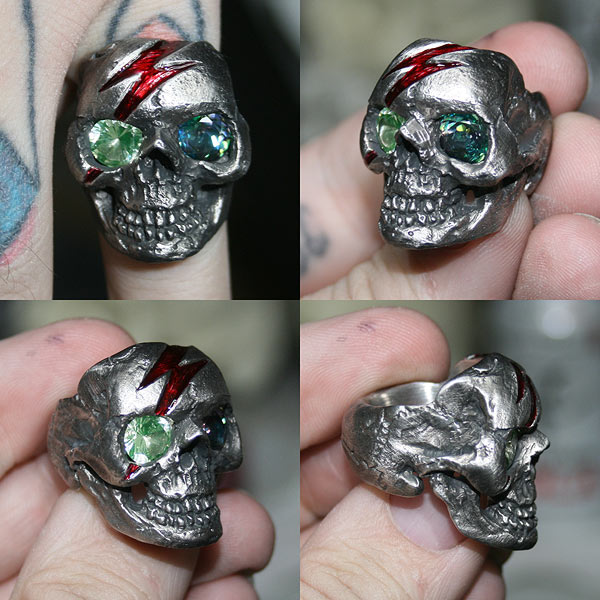 You can click the pic to jump to my store and snag it before anyone else or just look at higher res pictures. It's currently a size 7.5 so it fits smaller hands, and has two slightly different coloured gemstones. The inset lightning bolt is coloured with a permanent epoxy that I baked in place.