For quite a long time I've had a rat skull — a real one, not a plastic fake — lying about here, not really sure what to do with it. Yesterday I finally got around to plugging all the holes in it, gluing the jaw to the cranium, and then designing and creating a — what if I do say so myself is rather clever — two piece silicone mold from it. It's pretty fiddly and fine detail but I'm pleased to say that now having poured a quartet of metal copies, it turned out very nicely. After pulling the metal from the mold, I finished them by drilling out the rear where the spine would attach and then adding a second hole (if you look carefully at the one in the bottom left of the picture you'll see) so that they can be hung from a necklace, attached to a keychain, or just be left as is.
I'll add those to the shop tomorrow. I also recently got some more practice on gem setting. Some of the stuff below is for the shop and some is already gone and committed to customers.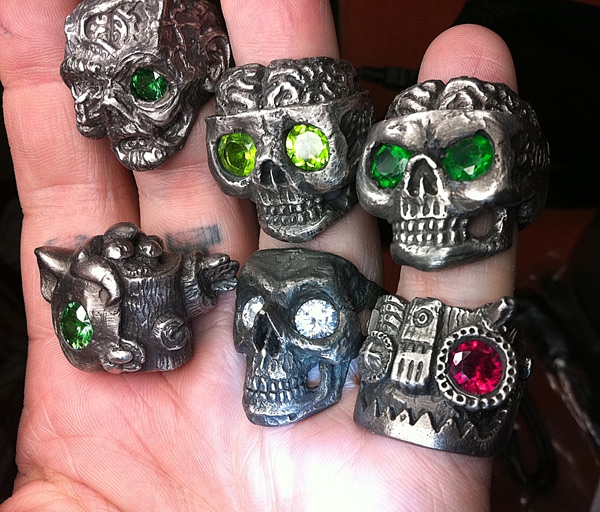 Finally, a couple days ago — as part of my marathon of walking, which has included as much as 10km per day, rather remarkable for me and I'll write more on my theories about it and how it interacts with both pain and my genetic disorder when we return from Mexico — Caitlin and I ate at Rawlicious, which finally reopened it's newly renovated Bloor West location a short walk from our studio. I started with a nice salad but for desert I had my favorite thing they serve — "cheesecake".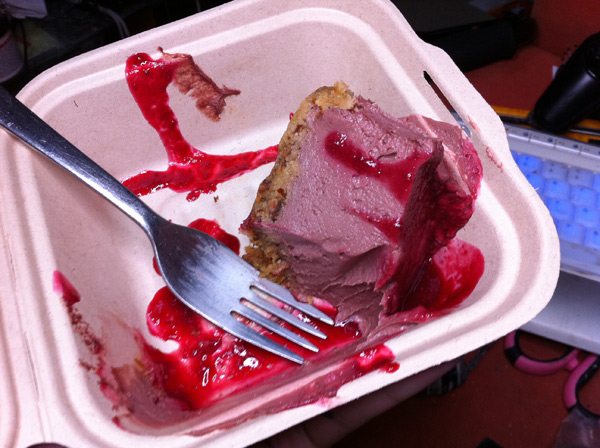 Now maybe you're thinking that looks a little odd for cheesecake, and maybe you're thinking, "why did he put 'cheesecake' in quotes?" Well, that's because not only is that vegan cheesecake, but it's also entirely raw, as is everything at the aptly named "Rawlicious". I looked up some recipes online for raw vegan cheesecake and it's actually quite simple, the crust being crushed nuts and dates, and the filling being a coconut oil and agave base. Pure calories! Bet you didn't think a raw vegan diet could keep you chubby? It's worth every calorie. So delicious.