First: These one-offs are not for sale and I'm not looking for a debate about the ethics of coral.
I made a couple of rings that use a small piece of coral as their centrepiece. To do so I ground down the back of the coral so that it sat comfortably over the curve of the finger. Then I oiled up the coral to keep the clay from sticking, and made the ring bodies which I then carved into a pattern echoing the natural shape of the coral. I made a quick one-piece silicone mold (using left-over mix from the a pile of new store ring designs that are on the way) and cast the rings in pewter. The coral fit perfectly. Rather than trying to glue it, I soldered some more material around and over the edges and blended it into the texture. So now it all seems to be mechanically held in place very well.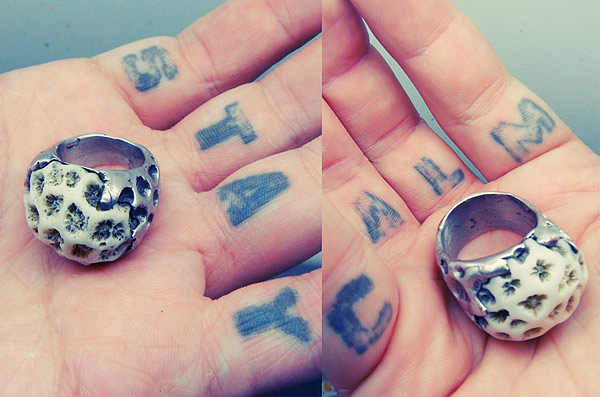 I've actually learned a lot about settings since I started making jewelry, and I am considering doing a "recall" on any rings that I've sold with gemstones so that I can redo the way the stones are held in place to make them more robust. Those that this applies to I will be in touch with by email. I just want people to have the best possible thing I can make for them.


The little one is a size 7 and the big one a size 11. I was so terrified that I was going to get them stuck. I had to oil up my fingers to get them on and off and they were nervously red by the end of the photos.
I will post shortly about the trip. We're just back of course.
PS. While on vacation Caitlin and I read conflicting things on the collection and export/trafficking dead coral. So we erred on the side of prudence and left all of it there except for a couple little bits that eluded through in the pocket of my bathing suit. So I figure now new-prudence is to not have it go to waste. Certainly it was everywhere on the island and was being used as "gravel" in the construction of walls and so on, so at least locally it appears to be treated as more disposable than I expected (that said, we watched them importing aggregate on big cargo ships, so I should not underestimate the value of gravel on a low-lying island for which a quarry is better known as an artificial lake). That said, I do It's not something that I would do in volume or commercially, and I'm not looking for a debate.