I'm pretty thrilled with how this project turned out. It's actually the first cast metal jewelry that I've made that I consider a true success so it's an important step in my learning curve. Caitlin has an old wind-up E.T. toy and I noticed that the size of the head was perfect to make a ring out of it (like a skull ring, but instead of a skull, E.T.). So I took a quick mold of the head using silicone putty (PoYo putty, which I like because it's so fast and simple) and then cast it in plastic. In addition, I added some two-part epoxy clay to change the shape to rounder and shorter (E.T.'s normal skull is quite long). I think I then made another mold and did my finally carving of the details in a second generation of plastic copy. I also sized it to about a size eight, since that's roughly Caitlin's size. Then I made a two part mold out of Dragon Skin 20 (a very soft but tough platinum silicone), carefully brushing the silicone into the details to ensure the mold was as perfect as possible.
After a test copy, the first thing I made was a lead-free pewter ring. It took a few tries to clear out the oils and other bubble-and-imperfection causing agents, but in the end I got a ring that I was quite happy with. I also gave it a black patina, which I gave a quick sanding with a rotary 320 grit wheel on the Dremel, bringing much of the metal back to shiny silver but with the details much darker.
Here is the final product: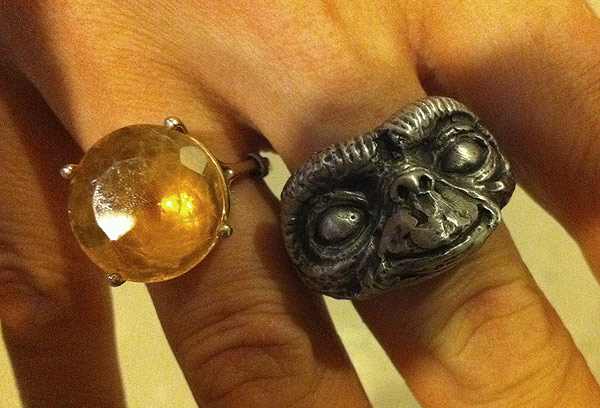 And a few other angles as well. To stay honest, these photos were actually taken a bit earlier because I made the ring too loose originally and I had to resize it to make it perfect for Caitlin. Luckily the pewter has a low enough melting point that it wasn't too hard to additively melt/weld a layer inside the ring's diameter using my soldering gun. But in these early pictures I had been a little more aggressive in sanding the patina so these shots are more silver than the "real" version above.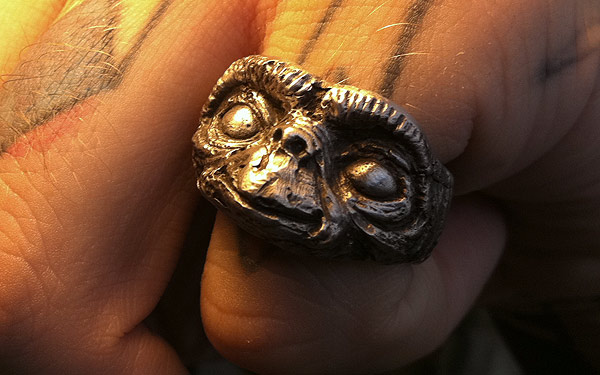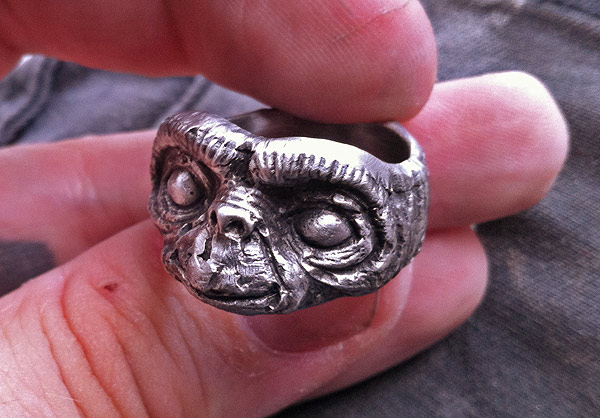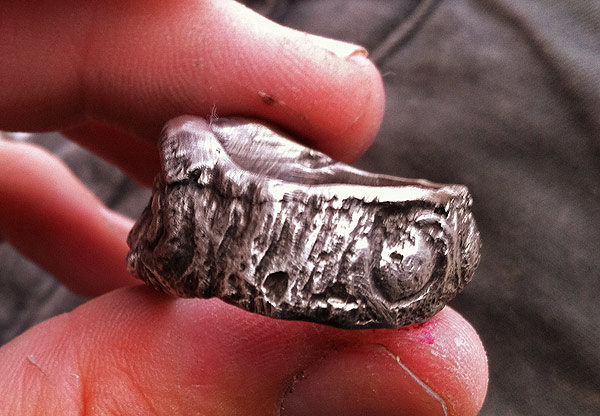 The weirdness on the back of the ring, the two nubs that you can see above and below, and the wrinkles on the side, are directly lifted from the original toy version of E.T.'s head. Don't ask me what part of his anatomy it is. For all I know it's where his kind keep their balls.
In addition to casting the ring in pewter, I did a second copy in Smooth Cast 325 plastic resin. It's naturally translucent, but I dyed it black and mixed it 1:1:1 with the third element being silver nickel powder, that is, suspending loads of powdered metal into the plastic matrix. You can't really tell from the pictures because it didn't photo well, but when this is sanded it looks a lot like oxidized metal. The real advantage though to this material is that it's much simpler to cast and more importantly, does a superb job in capturing the details with a minimum of post-release cleaning.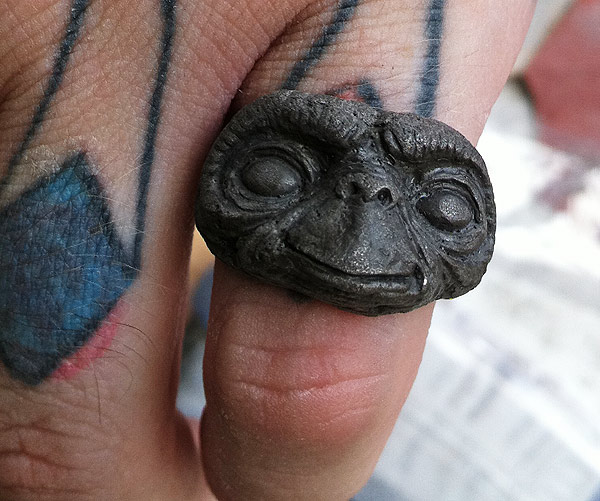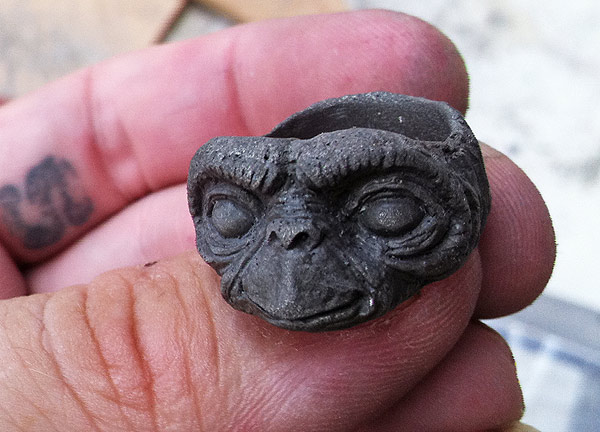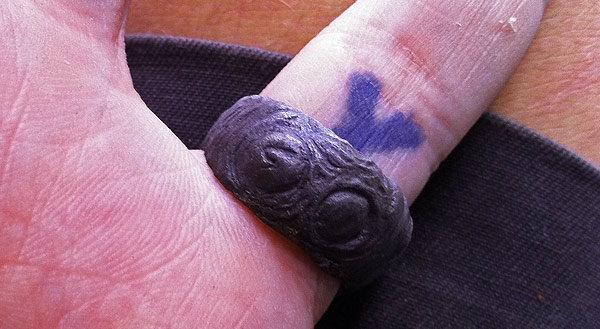 I mostly made these as a present for Caitlin but I'm not inherently opposed to putting some up for sale if she doesn't mind, and there actually is an interest…