I think a while back I posted pictures of little amulets or broaches or keychains that I had made by taking molds from the faces of various Barbie-type dolls that Nefarious has. Since school has been out, we have been spending almost every day at various Toronto parks, usually either High Park or down by the Lake, and typically at one of the free pools. It's nice to have fresh air instead of our hot stuffy studio (surprising given how massive and open it is), and getting five hours of exercise per day, punctuated by plenty of reading breaks, is great for both of us. My body is not doing as well as I would like and I am afraid that this is my last summer to enjoy like this so I am trying very, very hard to make the most of every moment.
Anyway, as well as bringing my own books to read while Nefarious is in the pool or whatever, I've been using a pocket knife to whittle those doll faces into new forms. I posted one a couple entries back, but I have carved quite a few of them since that I'd like to share here. These first three — the cyclops, the exposed brain, and the blindfolded skull — are all carved from the same source mold. The one that's unpainted was cast in plastic resin mixed 50:50 with nickel powder, so it's "sort of" metal.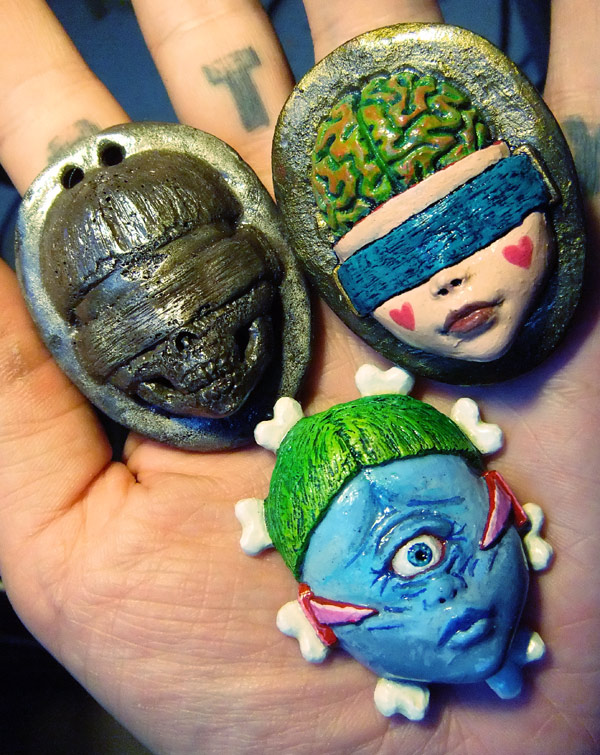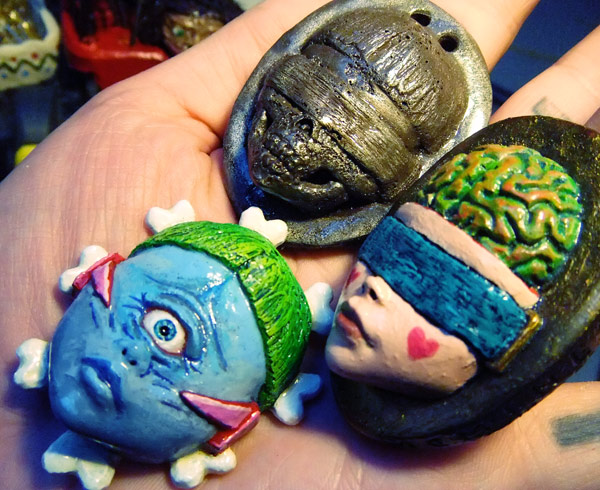 These two faces, a male skull and a clockwork mechanical superhero — he has glowing red eyes (scroll down to see that) behind his silver mask and a gear-filled brain, and I flattened the planes of the face to make it more angular — are also both carved from the same source piece.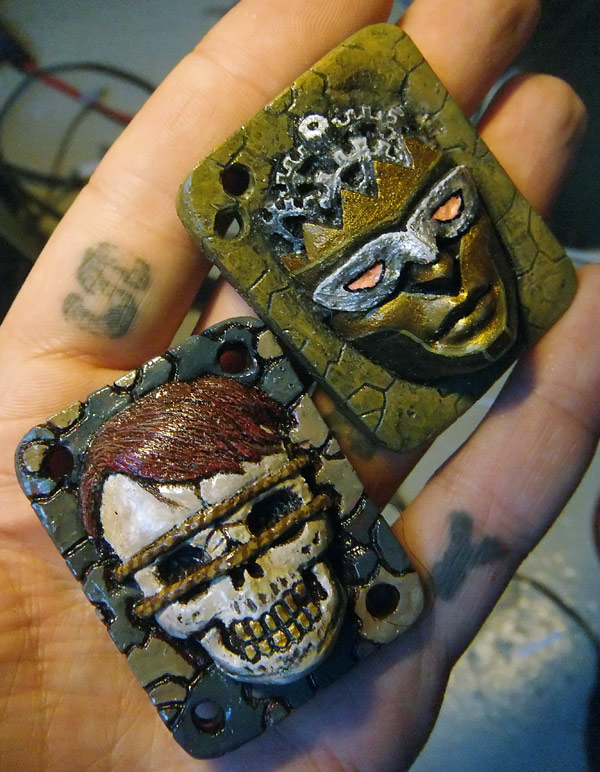 I also turned one of my bug-eye guys into a skull. Also in the photo is the very first one I made. These of course are made from different faces and I haven't yet made anything else from them.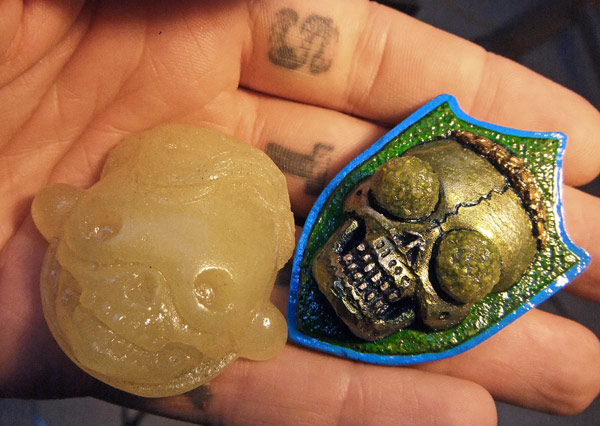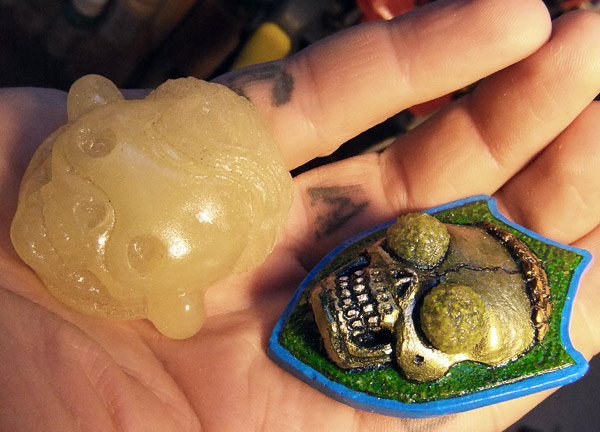 Finally, a few of these contain glow in the dark pigments. The unpainted one that I've featured before is made out of clear plastic that I mixed green glow pigment right into. The bug-eyed fellow's eyes are painted with a few layers of glow in the dark paint, which gives it a rough textured, and I also covered it in a fine pattern of polka-dots in transparent fluorescent yellow paint. Finally, the robot — which I forgot to mention also has "DOMO ARIGATO" in red embossed text on the back as a hat-tip to Styx — has powerfully glowing red eyes. I did two thick layers of zinc-based red glow-in-the-dark pigment in a base of superglue. It's very striking.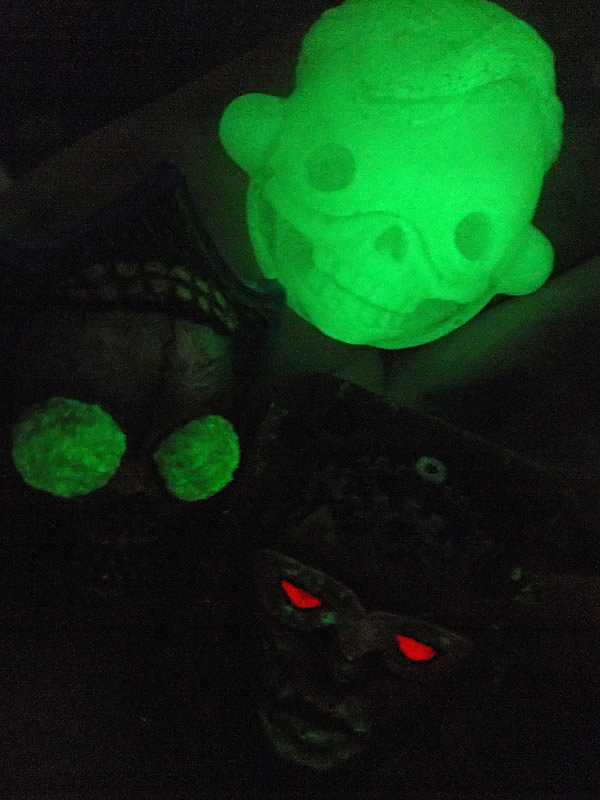 I recently picked up some other glow pigments. In addition to the red, I also have an amazing looking purple, and some pink and yellow as well (plus the green and blue that I already had). I'm looking forward to making some new items with them. That said, I can't even begin to tell you how horrible the red pigment powder smells (until it's encapsulated — the items I made are odor-free). It's got to have a hefty dollop of sulfur in it, and it is depressingly difficult to wash off ones hands.
Tomorrow — although that may be delayed a day due to the weather forecast calling not just for horribly sweltering temperatures and humidity, but thundershowers as well — we are making a trip to Ontario Place. It's free all summer to celebrate its twentieth anniversary (although the "extras" like some rides and IMAX aren't free), and this year Nefarious is tall enough that she can go on all of the waterslides. The "funnel" where at the end of the slide you get flushed down a giant toilet looks especially fun. I don't even want to think about how much I am going to regret it (and how few trips I can even manage), but I am going to push myself very hard to struggle up the stairs a few times because I just love waterslides.
That reminds me — if anyone knows of a water park that is handicapped accessible, please let me know. If there were waterslides I could enjoy without having to climb stairs, which is almost an impossibility these days, I would be in paradise I think!