I finished my hood ornament project for the Toronto Department of Zombie Disposal truck today and wanted to show it off. Let me begin with some full-vehicle pictures, which you can click to see uncropped and at high resolution, and then we'll get to closeups and the how-to later. Enjoy!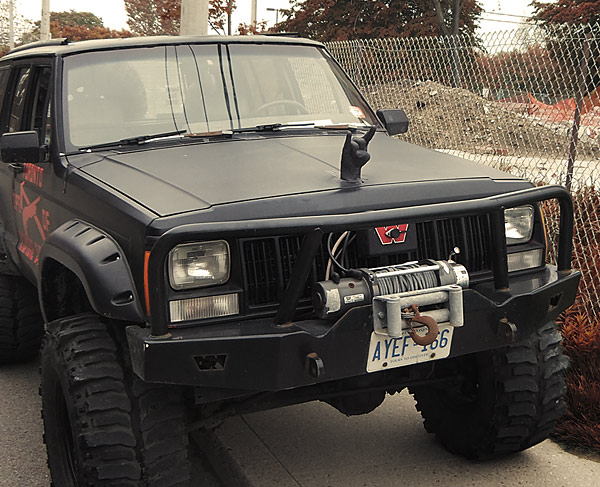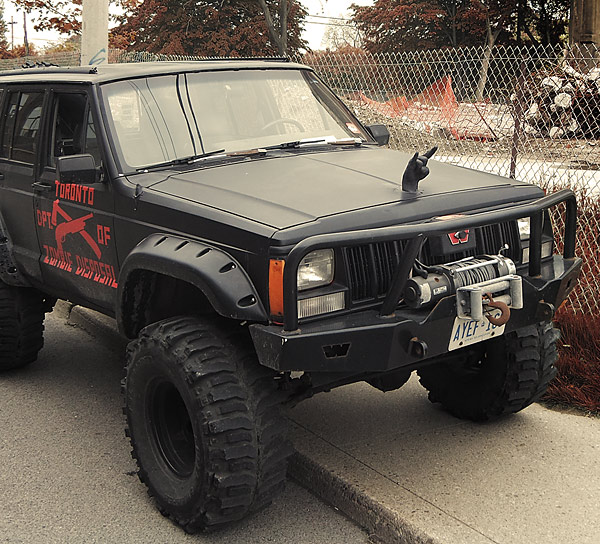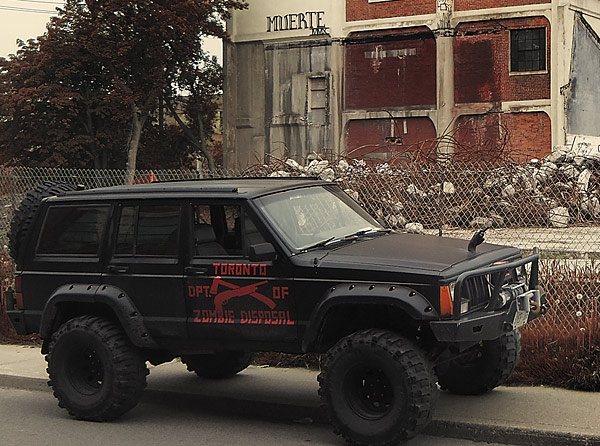 The how-to pictures and close-ups continue after the break.
Next the close-up photos. Click the thumbs for full-size of course. The cast isn't perfect because there was some bubbling in the resin because I sprayed in a little too much mold release, being unsure with whether it would bond with the alginate, but I think that works alright with the zombie theme, especially because of how prominent my skin pores and fingerprints all look.
Now let me do my best to show you how I made it. I somehow forgot to take pictures of the first part but there are loads of life-casting tutorials online if you want them (here's one at my supplier's website although I used resin for my final product), but obviously I began the process by using dental alginate to make a mold of my hand. We also cast my daughter's much smaller fist to use as a doorknob in our house, but I'll post that another time. Instead of filling it with plaster, I filled it up with Smooth-Cast Onyx, a black plastic resin that cures quickly, in something like fifteen minutes. I picked up a U-bolt and some big regular bolts to mount in it, along with other supplies, at Canadian Tire for under $5 total.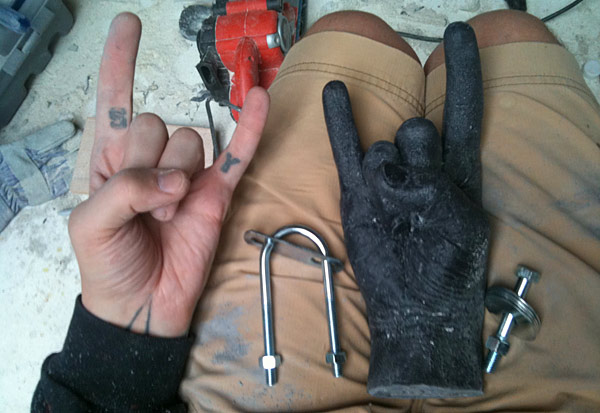 I cut a groove for the big U-bolt and a hole for the straight bolt. Then I stuck the pieces in said holes and mixed up a little more resin which I poured in to seal these bolts in place. The plastic isn't terribly strong so I'm sure that if I over-tightened the regular bolt that I could crack it out, but the U-bolt alone is more than strong enough to work on its own and has no such risk. So the bolt is really only there to keep it stable.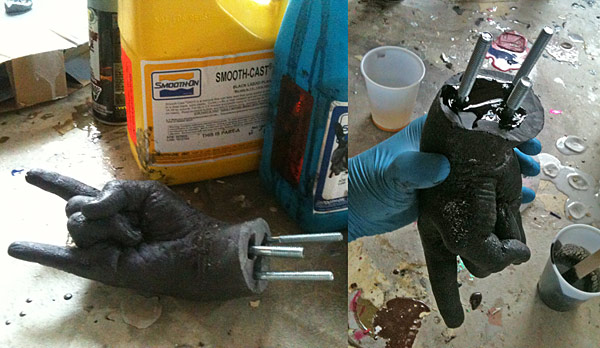 Then it was a simple matter of checking clearances under the hood, drilling a few holes, and mounting it in place, with copious amounts of automotive Goop (rubbery black glue) to make a nice fit since it sits over the central indentation. It wouldn't have been hard to make it form fitting but I didn't see the need. Finally, even though the plastic is black, I sprayed it with matte black just to make the match a little better.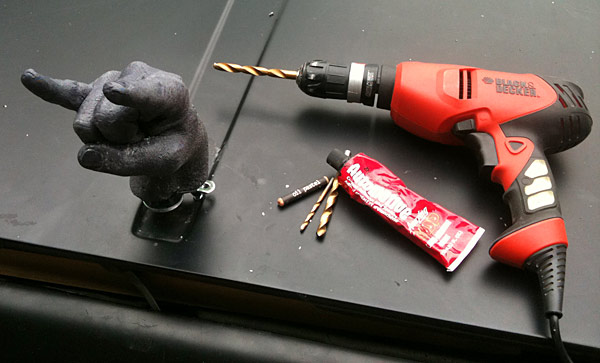 Finally, giving credit where credit is due, I got the idea to do this while watching Hobo With A Shotgun (a movie that was much, much better than I was expecting by the way), as there's a scene near the start where they use a truck to tear Ricky from Trailer Park Boys's head off. The truck has a hood ornament of a hand flipping the bird and when I saw that the little idea lightbulb went off over my head. Here's a quick animated cap of that scene so you get what I mean: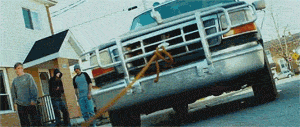 I hope you like my GIF! Go ahead and steal it but please don't hot-link. I had a lot of fun with this project (which by the way you're more than welcome to steal the idea of as well — email me if you do), and when I went out to take these pictures I had passers by stopping to take photos of their own (as always happens when the truck is out), with one guy taking a couple grinning pictures of his son, who had originally had the youthful fantasy joy of spending the first moments believing that Toronto really did have professional zombie hunters. Oh to be young. I think that one story makes all the work worth it.
Now my efforts will shift to getting my electric trike on the road!