I've mentioned a few times that I've started working on jewelry, so let me finally get around to posting some pictures to show you how that's going so far. I'm sure you've noticed before that I made some molds of doll faces that I've integrated into things like the bowls I just posted. I also decided to make some rings out of them, in the style of skull rings, but with the flesh and skin still in place. I have some other ones started, but so far I have completed three — a guy, a girl, and a baby. Big, medium, small. A Goldilocks set? Much of what I've been doing is experimenting with different plastics and finishes as well as working on making convenient and high quality, easy-to-use molds. All of these were made with three-part silicone molds. In between parts I pressed Lego blocks into the silicone pre-curing so that they fit together quite snugly.
Here are the three styles. You can click to zoom in on any of the photos, and after the break there are some more pictures and some information on the different materials that I used and some comments on them. When (if?) I finally get around to creating an online store for this stuff, I will surely include these in some form.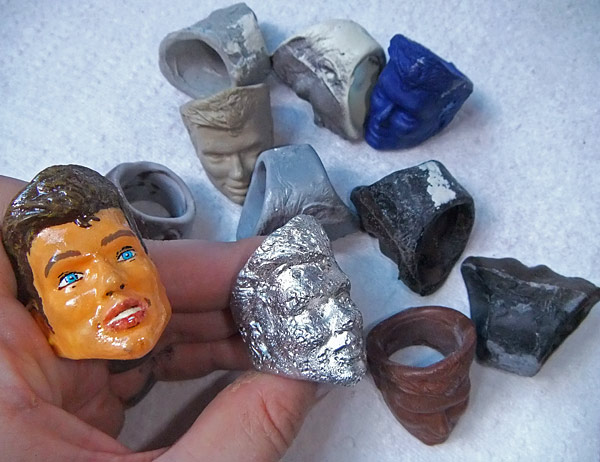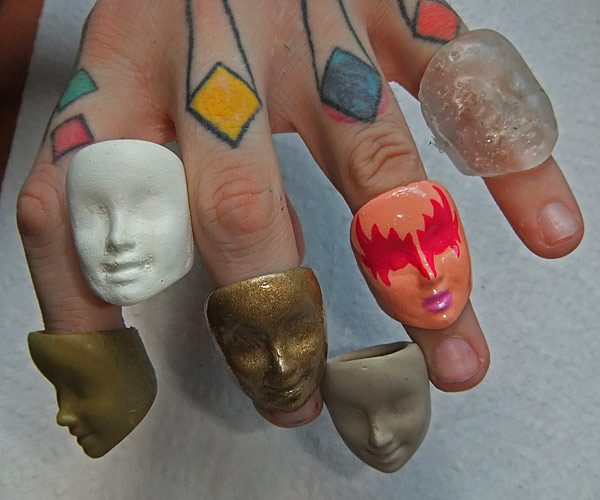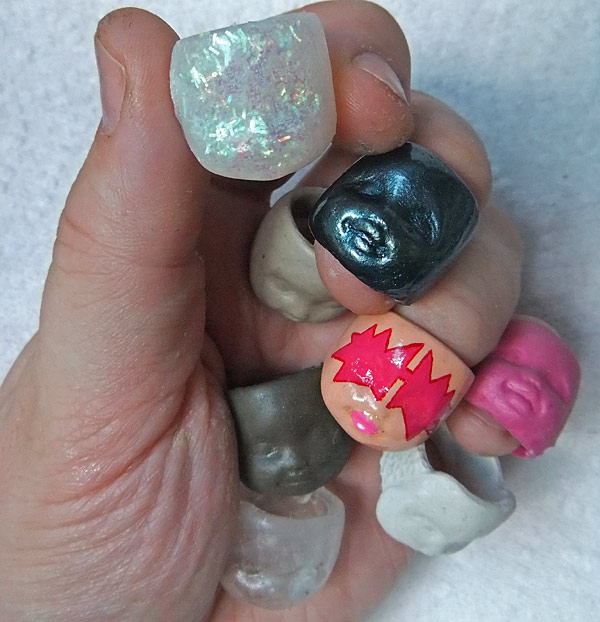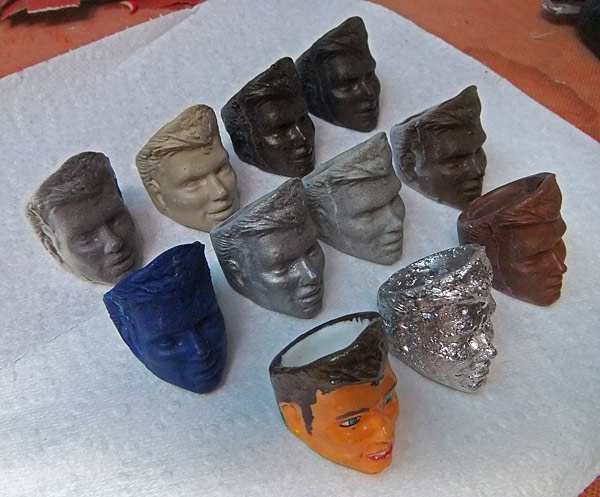 Front row, left-to-right: The first one is a regular plastic resin that's been painted with model paints and then covered with a clear gloss spray. The middle one is the only true metal one in the set, a body-safe no-lead pewter made out of a mix of bismuth and tin. This is the very first thing I've made out of metal and as you can see it has a ton of air bubbles. I'm sure I can do much, much, MUCH better next time, and I can't wait to work with it more. The one on the right is cold-cast copper (a mix of plastic resin and copper powder). It's quite heavy, although not as heavy as the pewter one.
Middle row: The blue one is just plastic with blue dye in it. The silver one is cold-cast "silver", which is actually a mix of powdered nickel and zinc in a plastic base, and in addition to that powdered metal I also added a very fine silver powder that's normally used to coat molds (bonding to the top layer to make something look metallic) but seems to work even better when mixed right in. The third one is plastic with ceramic powder mixed in, making it look and feel almost like a fine cement, although it's very light, about the same as plastic alone and definitely lighter than one expects. It's quite a nice finish that the picture doesn't do justice. The last one in that set is a cold-cast bronze if I remember right, but I didn't put in enough of it and it mostly pooled near the bottom of the mold (in the face) and it has an interesting "fade" from metal to plastic.
Back row: The first one is a cold-cast nickel where I didn't put enough of the metal powder into the plastic resin, so like the fourth in the middle row, it has a fade from metal to plastic due to the metal particles pooling near the bottom of the mold. The second one is made out of Apoxie clay and is actually the master from which I made the molds. The next one is made out of bronze powder mixed with plastic that I'd dyed black. Unfortunately the black ink reacted poorly with the polymer and it's incredibly brittle in part. I put a LOT of metal powder in this one and it's convincingly heavy though and feels very "metal". The last one is the same thing but in a different plastic base and with a little less metal powder in it.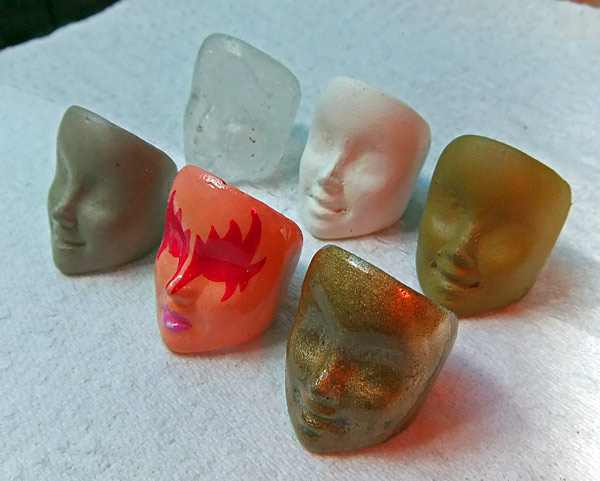 Front row, left-to-right: The first one is the Apoxie clay master that I took the mold from. The middle one was made in plain white plastic and then painted with model paints and clear-coated. The right one was cast in white plastic with lots of very fine gold powder mixed in. The powder that I used is not intended to be mixed into the plastic and is normally used just to coat the mold to make a shiny top layer, but I found it works extremely well when mixed right in as well (although you have to use much more of course). In addition to the gold powder in the plastic, it's been given a glossy coat of clear spraypaint to bring out the shine.
Back row: The first one was cast in a clear plastic. It didn't turn out very well, mostly because I had trouble with imperfections, and because I don't have a vacuum chamber to pull all the bubbles out of the resin as I'm mixing it. The middle one is just white plastic and it's also been painted with white paint with the intent of painting a blue faux-china pattern onto it. The third one is cold-cast brass, which has a rather odd dark muddy yellow color to it. Dijon mustard almost. It's nice and heavy though and I think with a bit of sanding I will be able to bring out its metal nature more.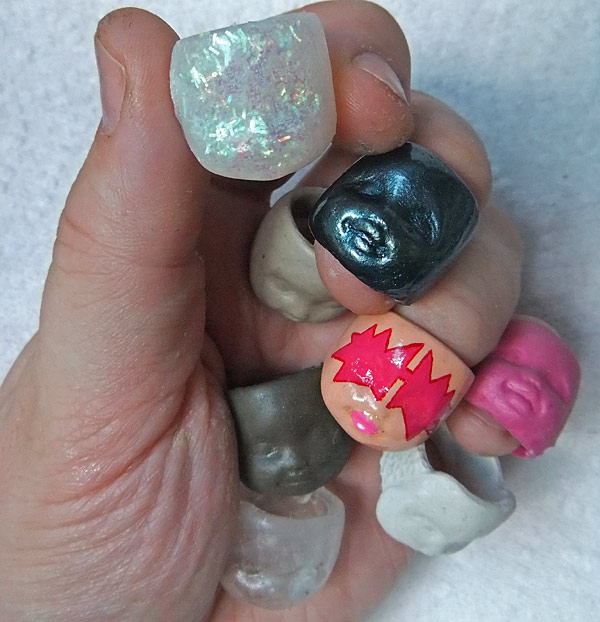 Front row, right-to-left: The first one was cast in normal plastic resin but painted with a dark blue metallic paint and then clear-coated. The second is my Apoxie clay master. The third was cast in white resin and then painted with model paints and sprayed with clear gloss. The fourth one was cast using white Apoxie clay, and I used a Dremel to carve the back of the ring into a new shape (in part because I didn't set the mold together quite right because of the difficulty working with the more solid material and the back was a little crooked).
Back row: The first one is cold-cast metal, I think nickel but I'm not sure. It's nice and heavy and the metal consistently captures the detail well. The second is a plain white plastic resin to which I added a few drops of red dye, making the end product pink. The third one is a clear plastic, the same one I used for the clear medium girl ring, and I'm not particularly happy with it for the third reasons. The fourth one is cast in a clear/translucent resin to which I added quite a lot of glitter particles. For this ring it doesn't work because it completely overpowers the detail and you can't see the face at all, but the material looks amazing and I will definitely use this mix for other items.
I'm still experimenting with more materials and mixes, and like I said I'm carving some more master designs to take molds from, so you can definitely expect more in this series to be posted in the future.