Not much of interest to blog about today… Nefarious and I headed out to the bookstore today to get some new stuff to read, having just finished Ursula K. Le Guin's book Gifts, which started out as a sort of dark coming-of-age story of a boy in a medeival backwater community where people have generally dark and destructive supernatural powers, and him coming to terms with his own, but has a few surprising plot twists at the end that gave us a lot to think about. As well as getting Nefarious a couple more graphic novels — right now she's reading an adaptation of the Jungle Book — I grabbed Tunnels by Gordon and Williams, and The Cabinet of Wonders (The Kronos Chronicles) which we started tonight. On the radio there was a show (I suspect a paid advertisement) that was talking about diamonds, hosted by some diamond wholesaler. He was talking about what a good investment diamonds are, specifically coloured diamonds. His claim was that diamonds are one of the best long term investments a person can make and that any diamond you bought should be expected to climb dramatically in value. Holy deception! Given that the technology of making artificial diamonds is getting better and better, and it's pretty safe to assume that it won't be long before "fake" diamonds are indestinguishable from the "real" thing, and that making the artificial ones will get cheaper and cheaper. After that, the only thing about a diamond that has value is the paper trail of where it was found, and I can't imagine that scam will last for long. So to me it seems like diamonds one of the worst ways to invest your money. It's not like diamonds are a precious metal like gold — they're just a particular arrangement of carbon molecules, and carbon is far from valuable. I wonder how many people will foolishly invest in the $100,000+ stones he was peddling that will, soon enough, be worth no more than any other common pebble.
I didn't end up working on my paint shelf but I did do a little sculpting. This is the new light switch faceplate, for a double switch, that I'm working on. Below that is "Tippy Pig", which is Nefarious's creation that I touched up for her after she sculpted it.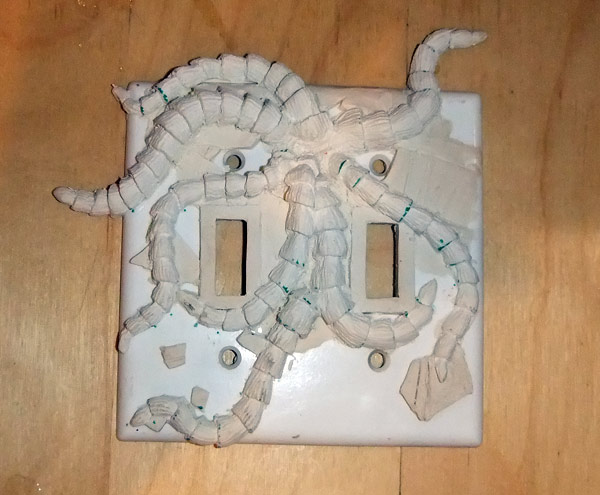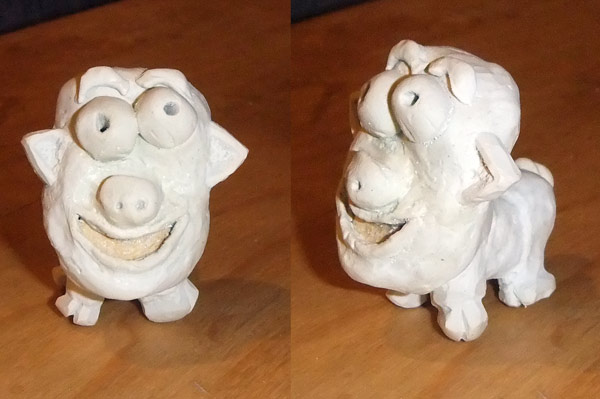 He is of course called "Tippy Pig" because his head is so large that he tends to tip forward onto his face. I gave him a bigger belly to offset his forward CG, but Nefarious got mad at me for messing with her character too much and made me grind his potbelly off again. The only thing that sucks is that it's so incredibly hot in this studio that the clay can be a little difficult to work with because of how soft it gets.
We also did lots of helicopter flying this weekend.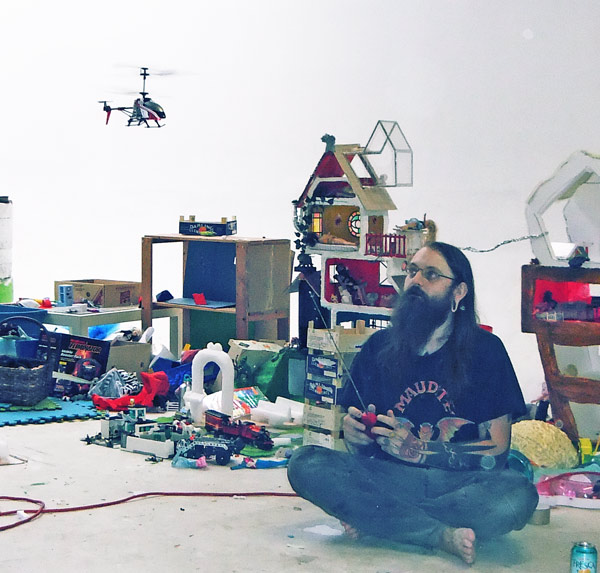 Not sure what my plans are this week, although two days are committed to hospital visits. I think I may add another appointment though to get my knees xrayed because it feels to me like they're getting worse quickly, and I don't have any reason to have joint failure so I'm confused. While I'm whining, it's getting to be not so fun to do carving with my Dremel, because if I do it for too long, I lose the use of my hand for a couple days as the muscles heal. Wah wah wah.