I was woken up at 7 AM by a kiss on the forehead by Nefarious who crept up to our bedroom, worried I'd overslept my alarm and dying to wish me a happy birthday. I then rolled over, gave Caitlin the same, and climbed out of bed and headed down from the loft for breakfast and morning before-school rituals. The day was relaxed, watching a movie and clearing out the many hundreds of Facebook friend requests that I've let pile up. It was a good day to do it, being reminded of old friendships and having my page grind itself into an online traffic jam with a thousand wonderful messages of well-wishing. Thank you everyone, it means a lot to me to feel both relevant and cared for.
I got nicer presents than I could have hoped for, including some artwork from Nefarious and a giant toolbox for my casting supplies and some super big-boy Star Wars undies from Caitlin among other things (and I bought myself some lumber that I'm eager to make a mess of on the lathe). Caitlin made me my favorite supper — spaghetti — followed by an overwhelmingly delicious fresh cheesecake overflowing with fruit and berries and I'm going to see if I can survive another slice as we watch Survivor. Shane has asked me to be real clear that it's fresh and incomplete because I wasn't up to doing the expected final hour of the sit, but he gave me great session on my leg tattoo (in addition to the Nazi zombie himself not being done, he's the only element we've laid down so far of this ambitious project).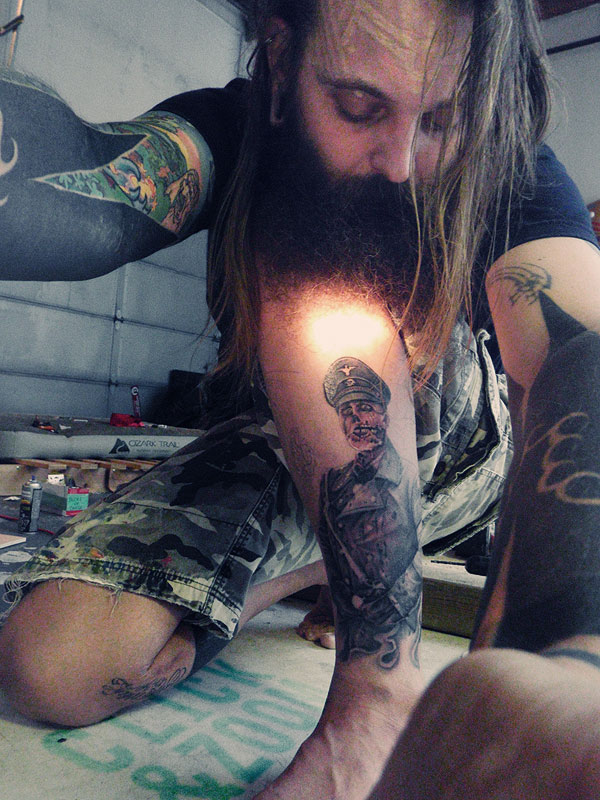 That photo was surprisingly difficult to take by the way.
Anyway, tomorrow I'm spending at the hospital, which could be good or could be bad and which may or may not dictate what my treatment is in the immediate future, but today I couldn't ask for a better day, and I couldn't ask for better people to spend it with.