I didn't really want to leave such a downer of a rant as my top entry so let me share with you some of the good things going on right now — although as I admitted, the good things bring me problems. Whenever I'm feeling alright, I happily stomp about, not realizing how much damage I'm doing to my flesh until it's too late. But I wanted to share with you a few of the plugs I made for my Halloween series of lollipops: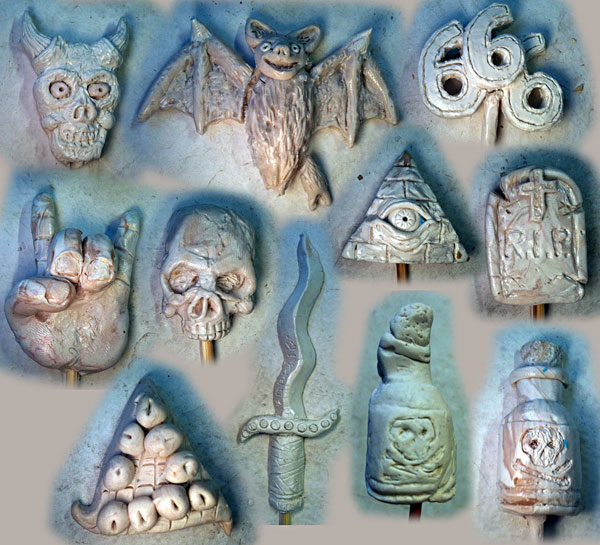 Zoom it if you want.
Those are all made from Sculpey, and the multi-eyed pyramid and the one poison bottle were made by Nefarious. I first tried to cast them all in hard silicone, which didn't turn out because of the hard putty has to be worked in small pieces and it left gaps. Then I tried casting it in a soft liquid silicone, which didn't turn out either because I got too many bubbles it. Just for fun I used my previous mold to make some silicone toys — the all-seeing pyramid and batty boy — which shows the problems pretty clearly (and also because they were made with the dregs of my mix, the detail is a bit soft because there wasn't enough catalyst). Finally I made the molds one at a time in silicone putty and they turned out perfectly with loads of detail, but I have not yet found the time to make candies or anything else. I find that I have at most ten minutes of motion before I'm completely incapacitated by a mix of a variety of sorts of pain, each worse than the other, nausea, and exhaustion.
I want to share something that I value a great deal: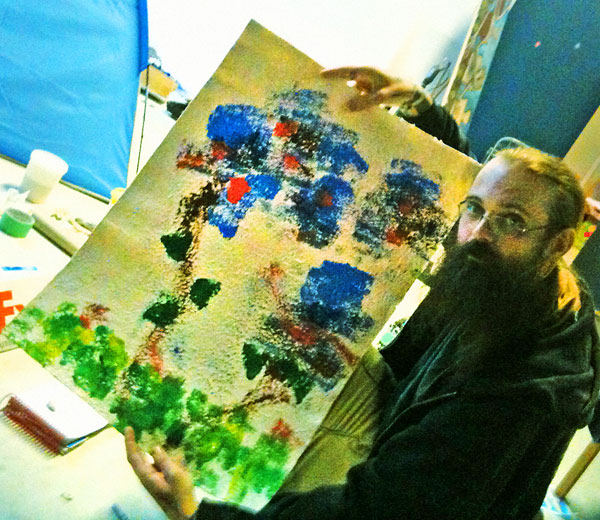 You can click for a better image. It's a floral painting done in acrylics by a young elephant. I've seen a lot of his other paintings and he seems to do mostly floral work. I liked his paintings because most elephants tend to either do abstract work (which is fascinating, because they each have their own evolving yet consistent style and express their own personalities in their work) or do trained paintings (like the video of the elephant painting a cartoon elephant that went viral recently), and this elephant does floral, which are usually trained, but this elephant paints them all differently in his own way, so it's an interesting half-way point between the two that seems fairly rare. So in part trained and in part innate, but as to the level of specific comprehension that's difficult for me to guess. I've been reading a lot about elephants and they have a sensitive and complex world view. Anyway, I got it in trade for a small donation to the rescue and I'm very happy to have received it a few days before my birthday.
Oh, and the paper is made of elephant dung. That's good because it means that Nefarious is probably telling me the truth when she swears she's going to keep her hands off of it. I haven't had a chance to frame it yet, but I will soon, and when I do I think I'll float it in the frame to show off the paper.
I also glazed the wooden bowl I made with glue, giving it a beautiful sheen, as well as a couple other nice projects (including my hilarious heat-score of a ZZ Top level beard in this awful dear-in-the-headlights snap), so please don't think it's all gloom and doom here. Just mostly, haha. Ha.