We've been having a nice week, with the highlight probably being a visit to a friend's cottage on a gorgeous stretch of sandy Georgian Bay beach, which we spent most of our visit lounging upon, Nefarious spending as much time as she could in the surprisingly warm water. If you're wondering why I have a cane in the water, it's just because Nefarious wanted to go out deep after I was tired out (I didn't initially look this silly), and I joined her so that she could go out further than would have been safe on her own. Even with all the pain — which grows more substantial every day, something that is hard to believe is possible, and the potential for imminent demise — boy oh boy do I still spend most of my time happy and appreciating what a lucky hand I've been dealt in terms of the experiences I've had and the people in my life. Please don't ever think I'm whining about health issues (that said, they do suck!).
I love the picture of Caitlin and I, and made it my new profile picture…
Nefarious, who has a fun week coming up visiting relatives (starting tomorrow with a waterslide excursion), insisted that I post this photo here. She was fondly reliving memories about cooking crepes as the cutest two year old ever back when we lived in Mexico, most of all how much fun the flipping is I think, so today she made them for Caitlin and I almost entirely on her own. I did some of the grunt work of mixing the ingredients, but she did everything else — assembling the batter, pouring, cooking, and flipping the crepes in the pan, and all that — on her own. And of course the post-frying carving of a plate of them into this be-hatted skull. It's a wonderful thing, just as satisfying as a good report card (which I'm happy to say her hard work has earned her), seeing life skills develop and applied.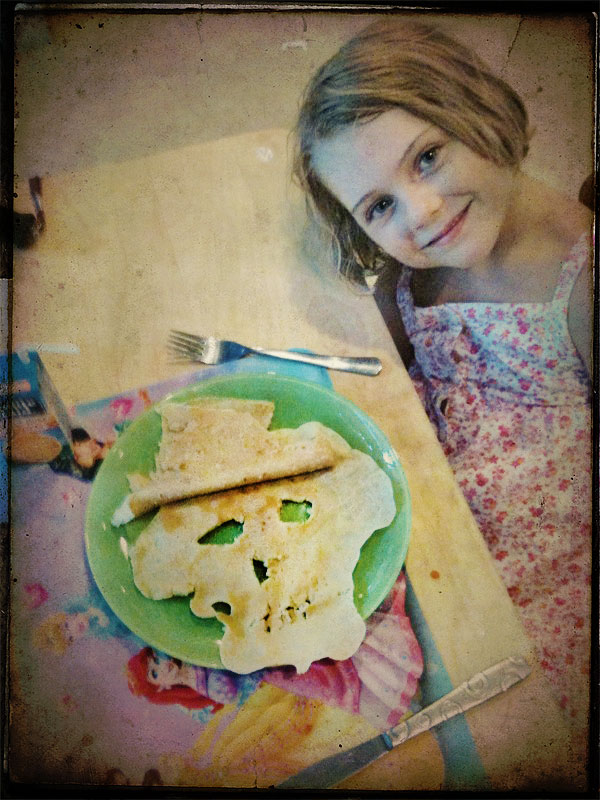 I've set up streaming from my movie/music collection to everything in the house — the PS3, which powers the television, as well as our iPhones and Caitlin's iPad — so tonight I think we're going to baptize it by watching "Africa's Last Taboo," a horrendously disturbing documentary about being gay in Africa (it'll get you the death penalty in a dozen or so countries, with their murderous anti-gay movements being well funded by mainstream American churches who can't get away with executing local white homosexuals). It's on my must watch list.
That reminds me, I was out for a walk with Nefarious today and some annoying fundies approached us and tried to push tracts into our hands, so I said thanks but no thanks on account of God being a myth (politely though since I don't want Nefarious to think it's OK to mistreat someone for their beliefs… even if they are not just ignorant but supportive of great evil) — which seemed to give my daughter the giggles. Because she's been raised atheist, but with a good knowledge of the stories and faiths of many different cultures via story telling that is expressive of the richness of religious tales, it's quite surprising to her that anyone would actually believe the stories are real.
Anyway… Other than spending some one-on-one time with Caitlin this week, I'm hoping to do substantial development on a zBrush-esque tool I'm working on for creating height/bump-maps, which I plan on using on my CarveWright CNC router. I haven't found any good freeware tools that are optimized for bas-relief sculpting, so I'm happy to contribute this effort. You can click to see where I'm at with a screenshot… I won't embarrass myself by telling you how much time I spent drawing all the icons, nor will I further embarrass myself by telling you just how much I enjoyed that time spent. I actually have a lot of other tasks I need to do also, so fingers crossed that I have the strength to do a satisfying amount.