Today we all took the subway downtown to have lunch at the overpriced salad bar at Whole Foods — overpriced being appropriate because Caitlin and I watched Capitalism: A Love Story (Michael Moore's latest, one of his best yet, in the same arena as movies like Zeitgeist) after Nefarious went to bed. To our happy surprise when we walked out of Bay Station we found out that we were in the middle of some winter festival with tons of ice carvings, and the whole thing was going on to promote the area's businesses, which was nice because Caitlin and Nefarious got free hot chocolate at the Starbucks tent, and not so nice because it was extremely crowded and you couldn't take a step without blocking someone's photograph (including a wedding).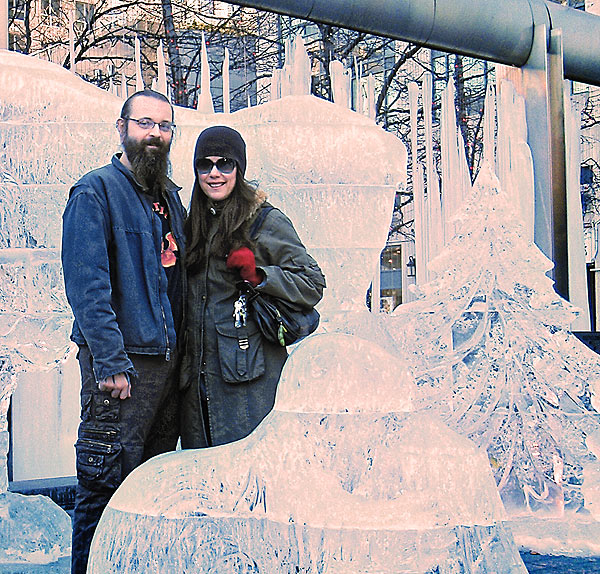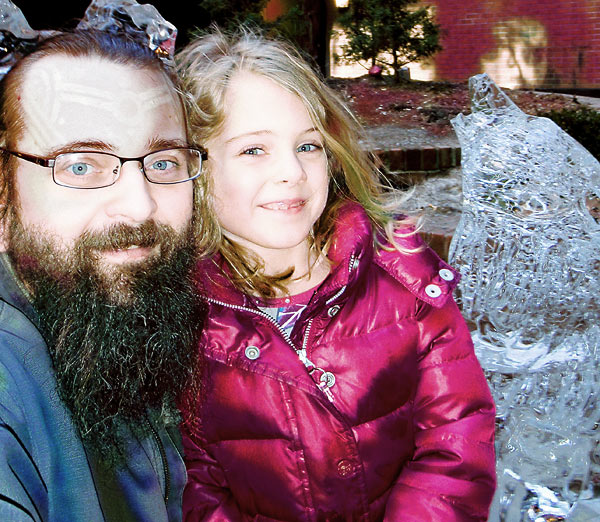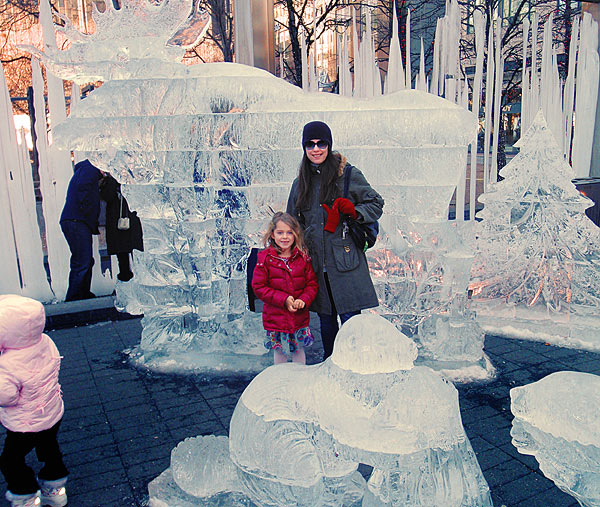 Of course we took some pictures too which I think turned out well. At least when my illness does me in there are tons of nice pictures that Nefarious can look back on — I was talking to someone recently whose dad died when they were quite young, and they had barely a single photo of him and described the torment of him slipping away as their childhood memories faded… I just ordered myself — and yes, I do seem to be on a self-gifting kick — a little Flip Ultra HD miniature camcorder as well as one of those twisty gorilla tripods that can do stuff like wrap around pipes, and the next book we read (Harry Potter and the Order of the Phoenix) I'm going to record us cover to cover. Maybe one day her children, if she has them, will be read to "by me" as well, while they watch their mother as a child enjoy the same book they are. Perhaps it will go on for more generations as well. Thinking about that possibility makes me very happy.
All in all I don't particularly like living in the big city, and would prefer somewhere less crowded, but one of the many redeeming qualities is that you often randomly bump into events and street festivals like this. Afterward we were considering going to the ROM (the museum) because I just renewed our family membership so it's "free", but we ended up waiting, in part because they're currently rebuilding some of Nefarious's favorite parts, not least of which is creating a larger version of the bat cave, which she and every other kid I know loves sprinting through (I think it's not until they're older and more patient that they walk through slowly enough to appreciate what a beautiful ambiance the place has).
Then Nefarious went crazy and started smashing everything! Just kidding, we found this sculpture that way, honestly. A guy actually came on the PA system and said that because of the warm day and cold night that the ice sculptures were unusually brittle and begged us all not to touch them.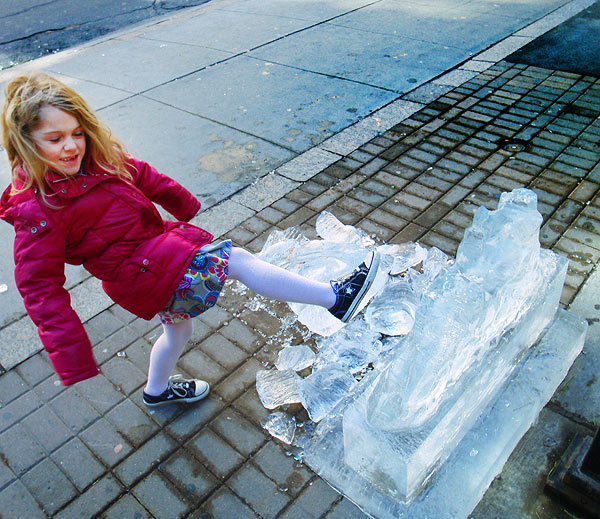 Later in the day, after we got home, Nefarious and I went out to pick up a Wacom Bamboo tablet (which is nice and big and quite inexpensive in comparison to the other full sized ones), and I've installed the drivers and software on both of our machines, so she spent a while learning how to use it… The main reason I got it though was because I've been seeing so many great flip book and stop-motion animations lately that I really wanted to make some more myself, and I think doing it with the tablet is way better than using paper (and a mouse is too hard to draw with in large volume).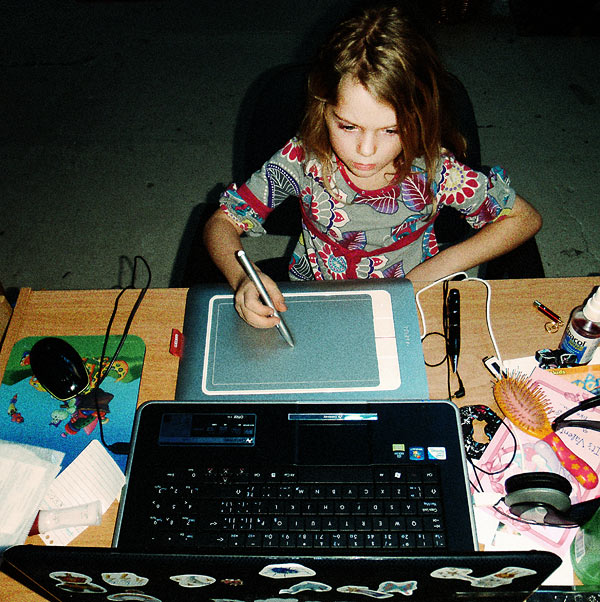 I've really been enjoying have two monitors again, but I do sort of feel like I'm "walled in" by them, which isn't so nice. I think I might build a table arch over the one monitor using 2x10s, so instead of putting the two of them side-by-side I'll stack them vertically. Other than that, I have still not heard from the guy whose Delorean auction I won, so my worry that the whole thing was a too-good-to-be-true scam of some sort was true is growing. Fingers crossed… But if not, I'm keeping my eyes open for another seventies Corvette.