Caitlin made me a super new hat for Christmas, although it needs to be made a little bigger for my big head and long ears. It came in handy at the park which was quite chilly. After about an hour I told the girls I wanted to go home;
"Why?"
"Because my body is very cold!"
"Don't you mean your heart? If you were more warm-hearted, you'd let us stay at the park longer!"
Zing! Yes, very clever.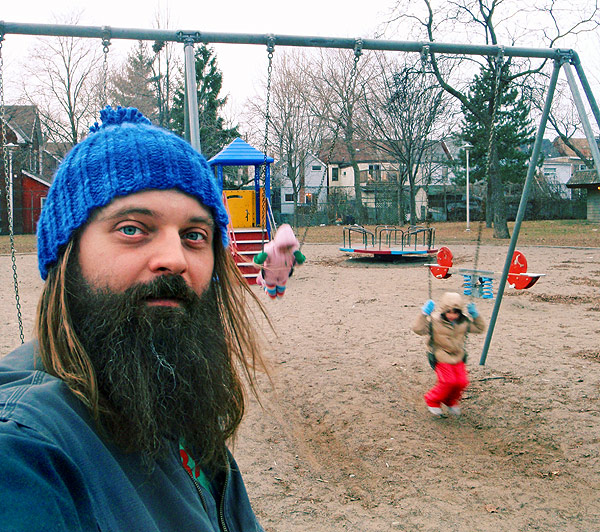 I also wanted to share a super price I found on Dealextreme, a cheap Chinese gadget and miscellanea site if you don't already know it. I'm a big fan of knives, especially assisted knives, which are sort of like switchblades but because of differences in the design (the opening "button" is a part of the blade) they are 100% legal almost everywhere in the world, including Canada. Anyway, I found a knife on their site that's a knockoff of a Smith&Wesson M&P series blade that I like quite a bit, but instead of the $50+ that you'll pay for that knife, it costs only $8.60 (with free shipping too) and surprisingly, the quality is quite good. If you like knives but hate spending money, this one is worth it.
I also put two other knives in the video that I like, my Kershaw which is the "everyday" knife, and a S&W OTF design that's pretty cool, but less practical than a normal folder. That's just a tiny peek into my collection… I have altogether too many knives I imagine, although I think many would argue it's the sort of thing where you can't have too much of a good thing (there are lots of online stores but stores I've used include Roadside Imports and Not Your Mama's Knives).
PS. The music is the awesome Manu Dibango, the Cameroonian inventor of disco.