It was wonderful being back in La Paz, my first real trip since moving back three years ago. Great to see a few old friends, and nice to be recognized around town (everyone wanted to know where Nefarious was of course). As well as revisiting many of my favorite places, we did plenty of things I never got around to doing when I lived there like driving out to the cactus sanctuary (more interesting than it sounds like) near the old mining "ghost town" of El Triumfo. We even visited the piano museum with it's delightfully odd potential-vampire host.
Of course I got almost no work done!
Most things were the same, but I was surprised to see a massive development — a full subdivision with about a hundred homes and two skyscrapers — has been built on the sand bar across from the Malecon… The first serious hurricane is going to wash the whole thing away, and apparently it's built very cheaply and is already falling apart before people have even moved in. Not sure if they're having trouble selling them… I guess real estate down there is really hurting because with the low prices in the States due to the decimated economy, the deals are Stateside. My old house there seems to have been deserted and has been entirely taken over by the plant nursery next door who are now using the property for storage.
Caitlin with a sea lion swimming under her: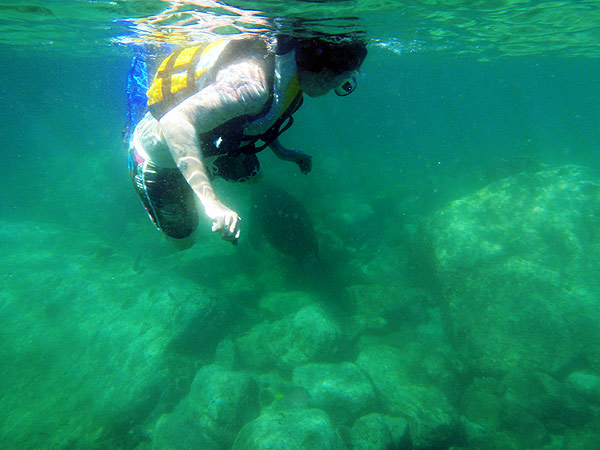 We rented a car while we were there and being back in Canada it sure strikes me how much more I enjoy driving in Mexico — people are much more intelligent drivers. I think having looser rules as far as stop signs and such goes forces people to think.
We ate a ton of tacos. I think I'm still stuffed.
Is it racist to say that I have an issue with Chinese tourists? People don't seem to think it's wrong to comment on the "ugly American" stereotype, but really, the Americans were polite if a bit dopey, but the Chinese tourists were without exception loud, obnoxious, rude, and unappreciative of what they were experiencing… Very unpleasant to be around.
Anyway… Zillions of pictures from Mexico follow (seriously, bandwidth hog after the break) — general pictures from La Paz, El Triumfo, and San Antonio, at the beaches of Tecolote and Ballandra, around Isla Espiritu Santo (where we got lucky and saw not only dozens of dolphins, but several grey whales as well), snorkeling at the sea lion colony, and more.