For the Christmas rush (and to make some space here), I have five paintings that I'm clearing out for the slim price $150 (each) which includes shipping. This is far less than I normally sell paintings for! They should make it anywhere in the world by Christmas. I accept PayPal (snowrail@gmail.com). First come, first serve. The following paintings are available:
A Galvanized Corpse
Diving For Percocets
Broken
The Cure Of Folly
The Opium Den
Yes, that means I finished off A Galvanized Corpse today. It's not the greatest picture of it (it definitely looks much better in real life), but you can click through to see it at top resolution: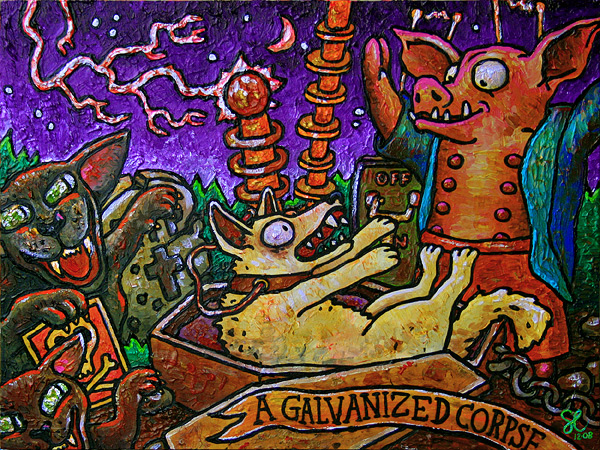 Speaking of helping you with things to give for Christmas, and helping me afford Christmas, I just got the hardcopy version of my interview book. It's really beautiful and the quality is great. Seeing it as a 460 page hardcover is really nice and inspires me to keep working on projects… I think of the things that give me joy in life, the "process of creation" is definitely high on that list. I love going from idea to product and seeing something once only imagined become real.