I had a great couple of days staying out in the coutry with Nefarious. I slept in a tent trailer out with the sheep and turkeys close by, and you really forget in the city how nice it is to breath fresh crisp air while you sleep, and what a blessing it is to see the stars. When we got back I finally plugged our Wii back in and Nefarious laughed her head off as she trounced me in a couple games of bowling before bed.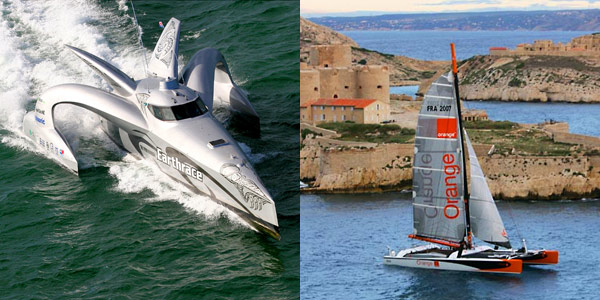 I read on Digg when I got back that "Earthrace", a high end wave-piercing motorboat (the one on the left above) had managed to break the world record for a circumnavigation in a powerboat, and to do it in an "eco-friendly" way because it's powered by biodiesel… It did its circumnavigation in just under 61 days. I thought it was important to point out the sailing record, by a catamaran called "Orange II" (right) is only 50 days. I don't know about you, but I consider no-electricity wind power much more eco-friendly — to say nothing of more beautiful — than an internal combustion engine!
Well, at least Earthrace looks faster.