So I think "harassment" (as in getting harassed, not as in doing it) is my middle name right now, sheesh… I was driving down the street with Nefarious with a cop car following me. After about a block and a half it lit up and pulled me over. I hadn't done anything wrong, so of course the first thing I asked her was, "can I ask why you pulled me over?"
For those who've forgotten, this is my truck: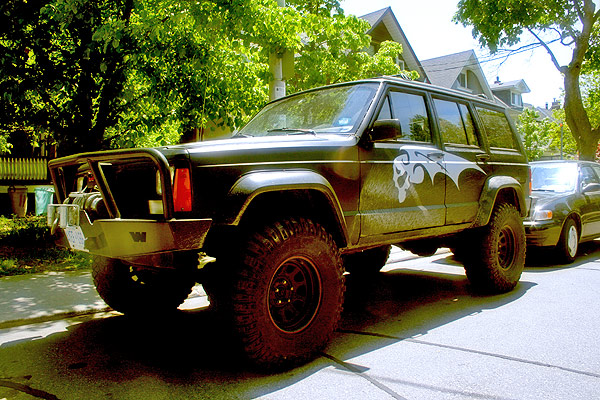 "You don't have mudflaps," she tells me. Now, I have a second, much larger truck and I do know the laws regarding mudflaps. First of all, this truck isn't that large or that lifted — 33″ tires on a 5″ lift — and I have aftermarket wide fender flares so the tires are 100% covered. There's no excess space between the tires and the body, and the fenders are trimmed only enough to keep the tires from rubbing. The actual law as to how much coverage is required is somewhat discretionary, but to actually give you a ticket they're supposed to see a problem occurring (ie. debris flying, serious splashing, and so on) — so it shouldn't happen on a sunny, rainfree summer day like today.
I explain all of this to her, but it turns out that she's the type of cop that when they discover they're wrong, fight even harder to find something to charge you with. So instead of just letting me on my way, she asks for my license, registration, and proof of insurance. I grab the first two, and then I'm rummaging through my wallet for the last when I pull out the insurance paper for my other car. She asks me if that's it, and I tell her no, it's for my other car but it's the same policy. She tells me that's fine and takes it, with no request for the one for the truck.
For fifteen minutes I watch her reading the rule book and making calls — it's clear she doesn't actually know the law. She comes back a couple of times to measure my tires and various bits of the truck. I get out and ask her if the rules specify an exact distance, and exactly where she wanted the mudflap to be — she couldn't give me an answer, and just said that it was "at her discretion" but refused to give any specifics. I told her that to give me a ticket, she had to have a reason or a legitimate concern, and that in the time we'd been standing there, a dozen other trucks with more lift and larger tires had driven past. She told me that she was sick of talking to me and wasn't interested in discussing it anywhere other than in the presence of a judge.
So then she delays another five minutes or so as she writes up the paperwork, and comes back not with one ticket but with two. The first was for "no mud flaps", and the second was for "refused to give insurance card"… When I saw that, I objected, and told her that she'd told me what I had given her was fine, and that I had the insurance paperwork for the truck with me and was perfectly happy to show it to her, but again, she just said to take it up with a judge.
Really, it's this kind of police officer that earns the name "pig".
Here's a shot of my rear tire/fender from above. As you can see the tire is completely covered. The tickets — both of them — are completely bullshit, nothing but police harassment, and will get tossed out in court if not before (as they're a total waste of time and money for the courts)… but still, a complete waste of my time and money as well.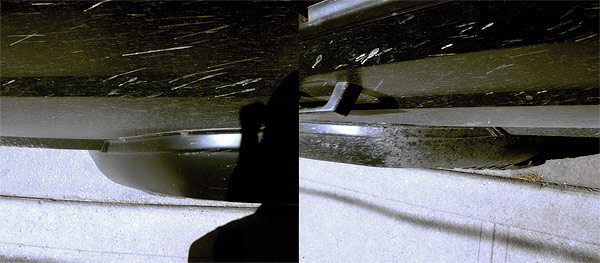 In more pleasant news, while Nefarious has chickenpox, she's got my immune system so it's barely affected her and we've had tons of fun playing as usual. Thankfully she did not inherit my light sleeping, having grown up in the city — she slept through a Chinese family reunion last night that made me want to murder my neighbors… Anyway, I had to go downtown with her today for imaging on my leg as there's some worries that my tumor is recurring, so we got to play on the big artificial rocks on Cumberland, and then we've been having a big squirt gun war in the driveway and on the balconies. Summer fun!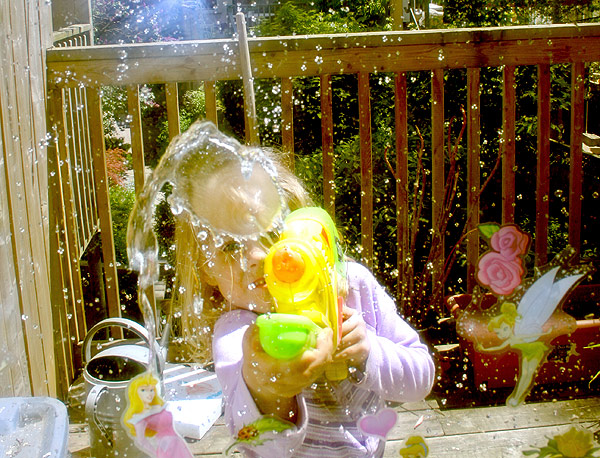 The other good news is that I got my power supply for my laptop back, so I'll be able to get my various sites that had the plug pulled on them back online soon, as well as post all the new things that look like ducks, and capture and post the movie I made in highschool, something I've meant to do for, oh, a decade. It's embarrassing, but nice memories.