SOLD
Note: The original entry is after the break… You can see that since then I've repainted the owl's eyes on Caitlin's suggestion ("it's dark in space so their pupils should be dilated" — true), added some white linework, and beefed up some of the outlines. Other than the frame, it may be done now. You can click the painting for a much higher resolution picture (warning: about half a meg) if you want.
I still don't have the depth of color right; it's much deeper and richer than this picture conveys… I really need to learn how to photograph my work properly.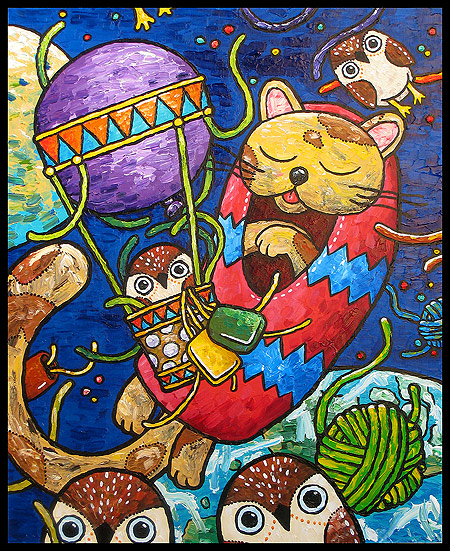 Original entry:
This painting needs a little touch-up and minor changes but it's just about done… The picture doesn't really capture the subtlety of the colours (for example, the owls are actually a pale yellow) so I'll try and take a picture of it outdoors in natural lighting when it's framed and truly complete.