First: I'd strongly appreciate if conversation on this blog was kept to art, homesteading, and other stuff tied to the entries as much as possible… BodyTwo was taken down for a reason and while I know everyone wants to know the details, I'd rather not have those issues affect this site as well. There will be a time and place when it's possible to discuss this at length but this isn't that time or place… Thank you.
Second: If anyone has any ideas as to why this blog renders its archive and index pages wrong on IE (other than "IE sucks!"), please drop me a line so I can fix it… Or switch to FireFox!
* * *
Third: I'm still alive and doing fine and looking forward to a wonderful holiday period with Nefarious and Caitlin and others, and am as always, working to create lots of new stuff. A couple more paintings are now on the go — on the left is "Where Water Snakes Come From" "The Origin of Water Snakes" and on the right is "Owl's Adventure III" (on wood panel).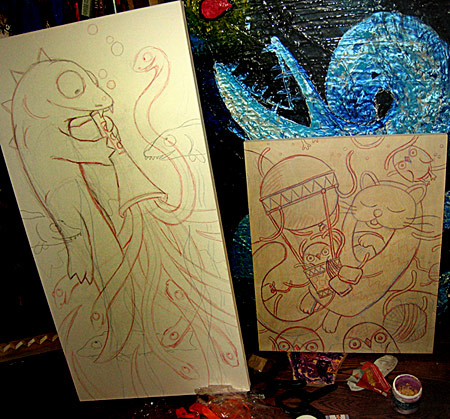 I'm also giving a lot more thought to the idea of the children's art museum, and perhaps launching a children's clothing line at the same time. I was being interviewed by a doctor yesterday as part of my ongoing legal stuff, and he asked me how I saw myself, and I told him that I saw myself as someone with a deep drive to create things of beauty, bring them into the world, and share them with as many people as I can.