I've mentioned in the past that I'm a big fan (and happy customer) of the H.M. Dignam Corporation, which is a company that sells (mostly) inexpensive rural land in Canada. Outside of having amazing deals on land, they have wonderful terms of sale, which I'll mention a few of:
You don't have to be a Canadian to buy (I mention that mostly because I know that many non-Canadians read this).
No-questions financing with a low monthly payment (or pay cash), which means you can buy land as a student or other individual without the kind of credit you normally need to buy vacant land.
Pay the monthlies at the normal rate, or pay it off all at once as you see fit if you come into money. The rates are low enough that most people should be able to buy a large rural property with minimal personal sacrifices.
If you don't like your property you can trade it for a different one within two years (which means if you buy something sight unseen, it's much safer).
Detailed maps are available, and most of the properties are on grid and on roads.
I'll give you a few samples from this month's catalog so you can see what I mean. Seriously, if this is interesting to you, subscribe to their catalog — you'll be like a kid in a candy store dreaming about your early retirement to your homestead. Here's a property on Cape Breton Island, Nova Scotia — a part of the world that the Scottish settlers described as the most beautiful land they'd ever seen when they arrived (and GQ Magazine's #2 North American island destination). It's about half way between the bridge to the island and Bras D'Or lake, and is fifteen acres for a three thousand dollar down payment and then $318 a month.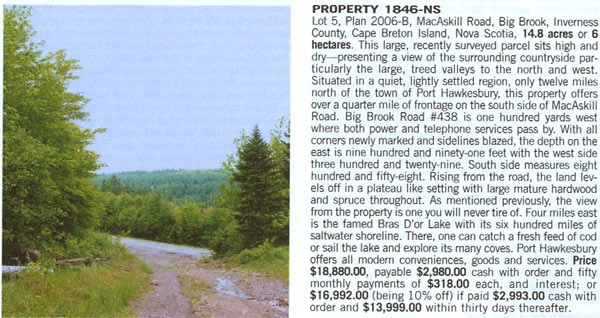 You can also get incredibly cheap land in Northern Ontario. I'm not really sure that I'd personally want to live as remote as Cochrane, Ontario, but at least if global warming floods the coast lines, it's a very safe place to be and there are plenty of moose to eat (if it's your thing, subsistence hunting is very much an option, and you can sell blueberry-moose sausages to rich folk in the city and live like a king — or just make pine needle tea)! This property, 150 acres of mixed land with a big 10 acre pond and a river flowing through it is $5,660 down and then $620 a month, and is fairly typical of what's available.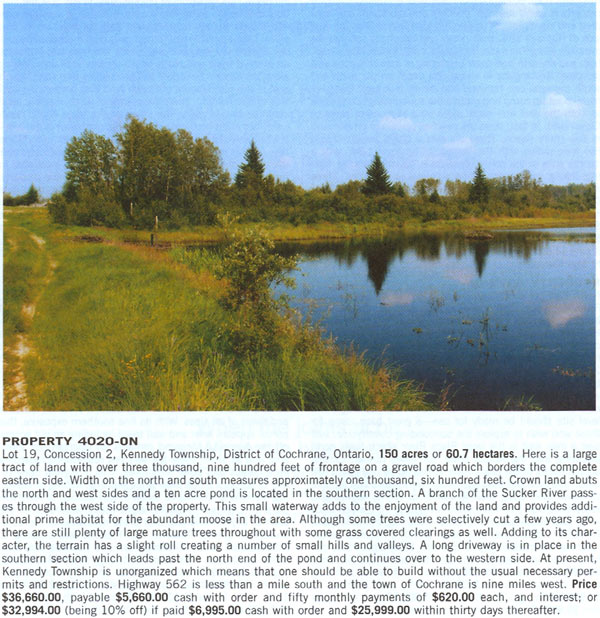 The cool thing about places like this is that there are no building codes or zoning, meaning that if you want to build a sand-bag house or an earthship, you won't have to fight with building inspectors that don't know anything about alternative construction methods — so not only can you buy the land for almost nothing, you can get away with building something that costs almost nothing.
Maybe you're thinking that both of those places are far too remote? Even land in Southern Ontario can be had really inexpensively. This property is just north of where I used to live in Tweed, Ontario is on the Trans-Canada Highway, so it's about two hours from both Ottawa and Toronto, and about half that from Kingston, all major cities. The picture is actually one that I took on a branch the river that flows along the northern border of this property.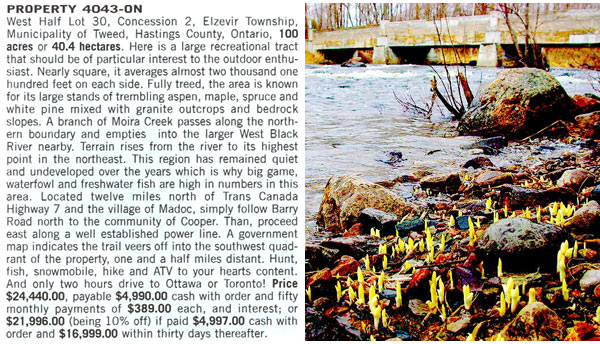 And yes, I know, even that property is a little remote if you're used to being able to stumble out to the 7-11 at 3AM for your dinner, but the hillbilly freedoms it comes with are a more than equitable trade… And if you build your own home and grow a lot of your own food, you really can live the good life on work that you can do over the Internet or by telephone (assuming you can't generate money or find a job locally).