One of the things I do to both pass the time and to bribe my daughter to eat all her veggies and such is drawing; drawing as a pretext for storytelling. Storytelling is probably the only thing that truly differentiates humans from animals (or so I guess — we've made such false assumptions before) and is certainly what holds cultures together and defines them. Sometimes I illustrate the process of creating the food we're eating. For example, a few nights ago we had a dish that included wild rice and shrimp, so we were talking about Ojibwa culture and what wild rice (manoomin) meant to them, as well as the process of de-veining a shrimp and preparing it for human consumption.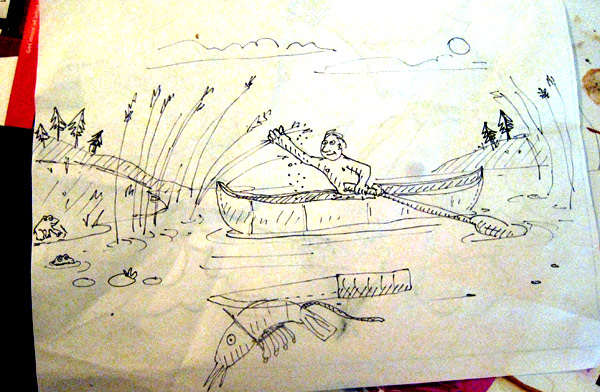 That said, admittedly it's generally just funny little drawings and stories on junkmail envelopes… I must have hundreds of these lying around the house (that's both a reflection on how much we draw and how little I clean I suppose, heh).
A friend of ours is having twins and her baby shower is today, so we used these scraps to make her a card over breakfast.