I was going to go to bed (and I am) but I just got this interesting email that I wanted to share because I will likely have no memory of receiving it by morning. As you may recall, I used to have a business selling human skulls, specializing in deformities, violent deaths, and graverobbing (in Peru and China mostly). I retired because (obviously) I became increasingly uncomfortable with the ethics of it and was worried about the legal implications of the latter activity.
They still occasionally re-air the TLC show in which I talk about this a little way. Anyway, here's an an example of one of the skulls I sold: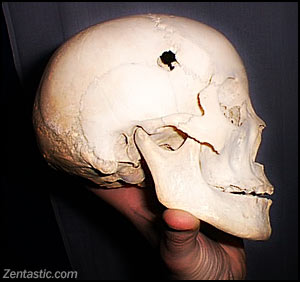 Anyway, according to this email, here's the story behind this skull:
This is quite possible one of several thousand of skulls resulting form the murders of Kongo Müller. A .22 bullet, as that bullet hole apparently is, makes a very round hole at close range. Kongo Müller was an ex-SS war criminal who became an African mercanary. Several thousand of these types of skulls may be found, because he felt that the Africans were inferior to him and thus could be hunted. After wounding them, he would shoot them at point blank and sell the skulls. Few people are ever killed with .22 rifles, so most of those on the small market today are his. If it is of African original you quite possibly have a skull resulting from a serious war crime which has been, to an extent, been repressed.

If I had to guess, I'd still put the strong odds on this being damage during graverobbing, but who knows… I don't have the skull any more so I can't examine it to see for sure.