Amusingly, there are currently no Canadian or American dollars in my wallet, and those are the only currencies that you can spend at every store in Canada (although these days most will take American only at face value due to its weakness). I don't really know why it makes me happy — maybe it's a "virtual travel" thing, or maybe it's fantasies of being a supersecret-agent — but my wallet contains quite a few different currencies right now, all with specific memories attached: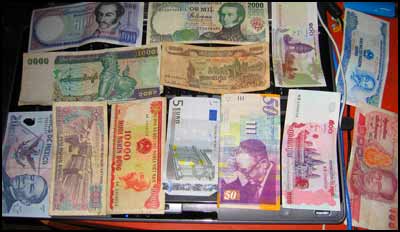 CLICK TO ZOOM IN
There are a lot of places I've been where I regret not having brought back currency (Namibia and South Africa, Argentina, the UK, the Carribbean). I think maybe I'm like a
Bladerunner
replicant or something — because of my poor memory and thus the illusion of an artificially limited lifespan (because I have only a few years of memories, rather than a lifetime's), I may subconsciously cling to the symbols of memory, to the icons that jar and generate them?