My main video array (all FireWire 800) is now up to 1.5 TB, with another 0.5TB in internal and USB 2.0 drives. I know I haven't answered those of you asking me "when's the movie coming out", but I don't have an answer for you because it's one of those things where I think I'm going to be chipping away at it for a very long time … but it is still underway.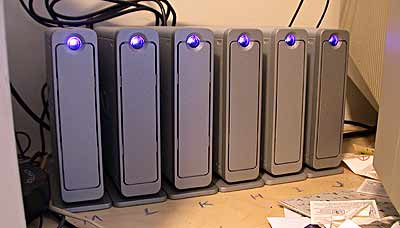 In other news, Rachel and I will be in South America for the Sao Paulo (October 22-24) and Buenos Aires (October 29-31) tattoo conventions. I'm hoping to do lots of video interviews and coverage, and Rachel will be shooting the conventions of course. I have to admit I'm going to be super paranoid, but hey, if there's going to be a pre-election terrorist attack, South America's probably not a bad place to be.
Anyway, I'm off to the Cirque-us now.