For those of you who are bodyart book collectors, the Japanese Edition of the ModCon Book just got added to BMEshop. We have 104 copies (out of a total run of about 1,500), and when they're gone, they're gone. So if you want one, you should probably grab it soon (it might just trickle out slowly, but you never know).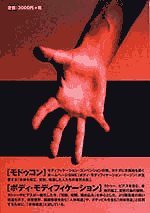 I'll briefly mention that we're also working to turn Liam's trip to Ethiopia (the article below) into a book as well, and there's also a book on the first years of
Rites of Passage
(the suspension group) in the works. There are a couple other projects by other authors, and then of course the voluntary torture book by me. So there's going to be a lot of exciting media coming from BME in 2004!